[ad_1]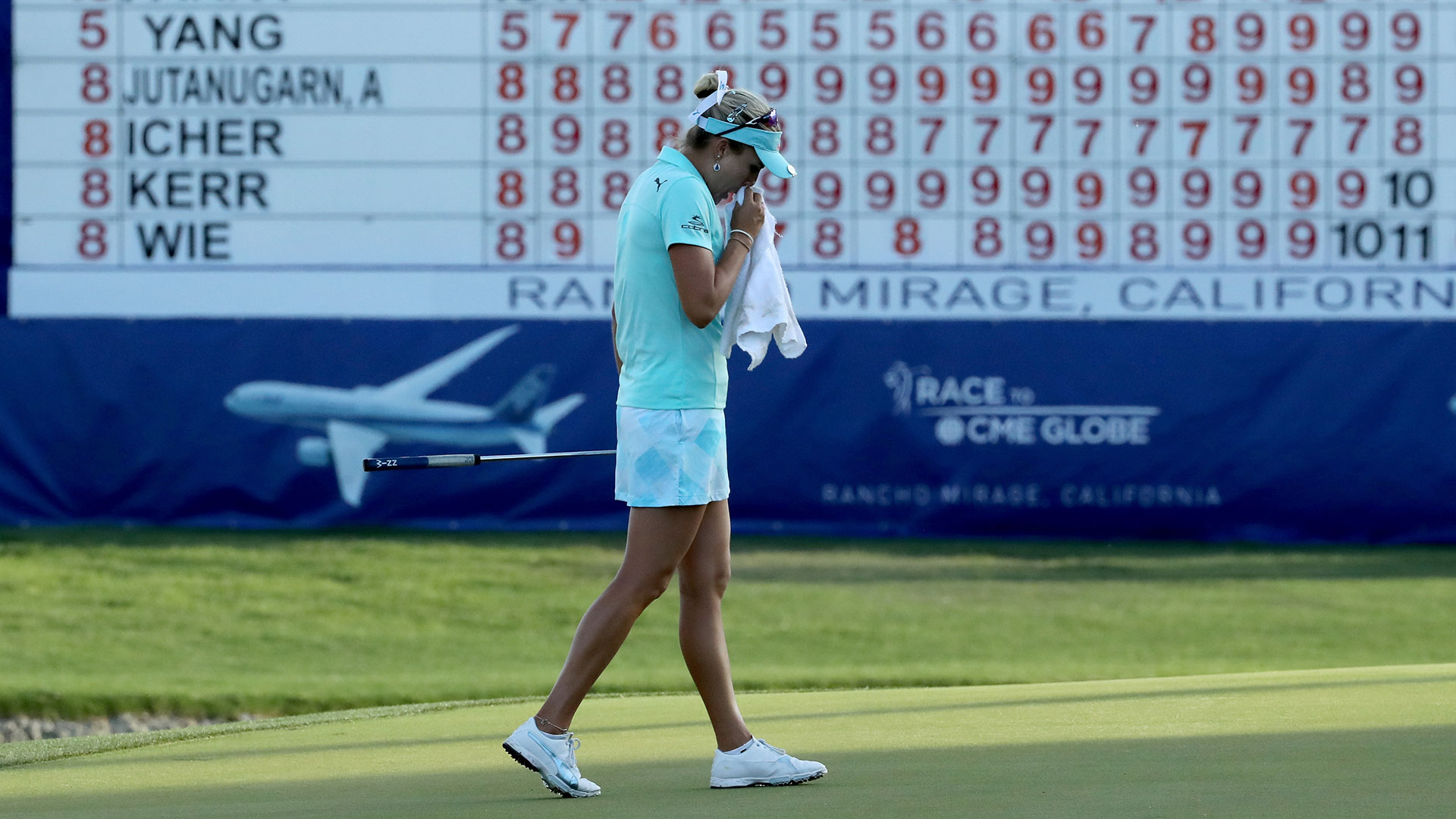 RANCHO MIRAGE, Calif. – Lexi Thompson marches back into the wreckage that is her memory of last year's epic tale of woe determined to script a better ending this week.
She returns to the ANA Inspiration looking to claim the title that so many believed was unfairly taken from her.
The golf world is riveted.
"I think it raised the level of Lexi's desire, her 'want to,'" said LPGA Hall of Famer Carol Mann. "By that, I mean her 'want to win.' I think she was brave and courageous and dogged, the way she came back from those penalties in the final round last year. I think it created a new level of desire and focus and this feeling that everything else is irrelevant, 'So get out of my way.'"
That's why Mann isn't the only Hall of Famer who will be riveted to her television this week.
Will Thompson blow through every player and every painful memory in her way this week? If she wins, will it be the greatest tale of redemption in LPGA major championship history?
Or the greatest tale of revenge?
It depends on how Thompson really sees this quest, but you can be sure of this: Anybody who cares about the women's game wants to see what she will do this week.
"I truly admired the way Lexi gutted it out after being hit with that penalty," said Pat Bradley, winner of 31 LPGA titles, six of them majors. "She almost overcame a four-shot penalty in the final round to win. I can't imagine. I was really impressed with her perseverance, the way this young lady just gutted it out. It was something to be admired."
So Bradley will be more than watching. She will be rooting for Thompson.
So will fellow Hall of Famer Nancy Lopez.
"Oh yes," Lopez said. "It made me angry watching what happened to Lexi. Four shots? That was crazy. I've never seen anything like that, but I thought Lexi handled it like a true professional."
Thompson's penalty ranks as the most devastating in women's major championship history. In fact, Roberto de Vicenzo signing for an incorrect scorecard at the 1968 Masters that cost him the chance at getting into a playoff may rank as the only penalty that's more painful in all of major championship history.
Thompson appeared to be ready to run away with the ANA last year, she was so on her game, ripping monster drives, knocking down flagsticks and putting better than she ever has.
---
ANA Inspiration: Articles, photos and videos
---
And then an LPGA official stopped Thompson coming off the 12th green. Thompson froze in her tracks listening to how she was being penalized four shots, two for incorrectly marking her ball at the ninth hole in Saturday's round and two more for signing an incorrect scorecard.
A viewer emailed the LPGA that Sunday with the possible infraction, and replays confirmed that Thompson did not move her ball back to its original position on her mark. She laid her mark down beside her ball, but then replaced the ball in front of the mark.
"I literally thought it was a joke," Thompson said. "It was April 1st earlier that week."
Thompson was two shots ahead leaving the 12th green, but two shots behind stepping to the 13th tee.
She was in tears teeing up her ball there, but she somehow managed to birdie that hole, and birdie the 15th and birdie the 18th to get in a playoff that she would lose to So Yeon Ryu.
Thompson, 23, doesn't like to talk about what happened that Sunday last year, but the memories still come back.
"That night was extremely rough," Thompson said. "I was screaming, crying. I've relived it for a while. I had nightmares about it. I still occasionally do. It's been rough, but the fans were behind me the weeks after, the months after."
Thompson went on to win the Kingsmill Championship about a month later. She won twice last year, with six second-place finishes. She won the Vare Trophy for low scoring average, won the season-long Race to the CME Globe $1 million jackpot and was named the Golf Writers Association of America Female Player of the Year.
Thompson did all of that with two more blows knocking her onto her heels. She endured seeing her mother, Judy, diagnosed with uterine cancer last summer and then watched her recover. It was Judy's second bout with cancer.
And at year's end, Thompson blew a chance to win the Rolex Player of the Year Award for the first time and to move to Rolex world No. 1 for the first time by missing a 2-foot putt that would have won her the CME Group Tour Championship.
It was the craziest of years, with Thompson a factor in the USGA and The R&A rewriting their rulebook so viewers can't call in penalties anymore. The rules were also changed to limit video evidence.
"I learned how strong I was, dealing with this tournament last year, and dealing with every challenge I was faced with," Thompson said.
Thompson won the ANA Inspiration four years ago, but she acknowledged there were bad memories to be navigated in her practice rounds here this week.
"Memories came up, but, honestly, I just had to let them go," she said. "I had to go on. It's the past. It's 2018, and I'm ready for a new year, and everybody needs to just let it go."
Bradley said she doesn't know the depth of Thompson's pain, but she knows what it's like to try to rebound from the pain of an unusual loss at Mission Hills.
Bradley was leading the event known as the Nabisco Dinah Shore in 1984. She was a shot ahead stepping to the 15th tee when a TV rep stopped her, telling her to hold off playing on.
"He told me they were showing highlights of the celebrities from the pro-am, and we needed to wait there," Bradley said. "We waited for three or four minutes. I had all this momentum, and all of a sudden I'm rattled waiting there, my rhythm totally interrupted. I bogeyed three of the last four holes and lost."
Bradley was trying to win the event for the first time, but Juli Inkster won.
"Juli played well, but I couldn't believe the TV people did that," Bradley said. "It was tough to swallow, and I was very upset."
Bradley said she came back to that event with a motivational edge, and it didn't take her long to win with it. She claimed the title it in '86.
"I felt like nobody was going to stop me from winning that event," Bradley said. "I feel like Lexi will be the same way this year."
Amy Alcott will watch Thompson this week feeling the same thing Bradley felt. Alcott said her painful loss at the Nabisco in 1980 motivated her to win it three times.
Back in '80, Alcott was hit with a two-shot penalty in the final round that still haunts her today.
"I feel like my name should be on that trophy four times," Alcott said. "We all have demons to deal with, things we remember, but I believe they make us stronger."
Mann won 38 LPGA titles, but she says that means her record as a tour pro was 38 wins and 475 losses. She said every loss was an opportunity to learn.
"When I was 19, my dad sent me out on tour with a book, Norman Vincent Peale's `The Power of Positive Thinking.'" Mann said. "The most important message I got from that book was that attitude is more important than facts. My whole career was built on that statement."
Mann will be riveted to see what new epic tale Thompson might script with her attitude.
[ad_2]

Source link