[ad_1]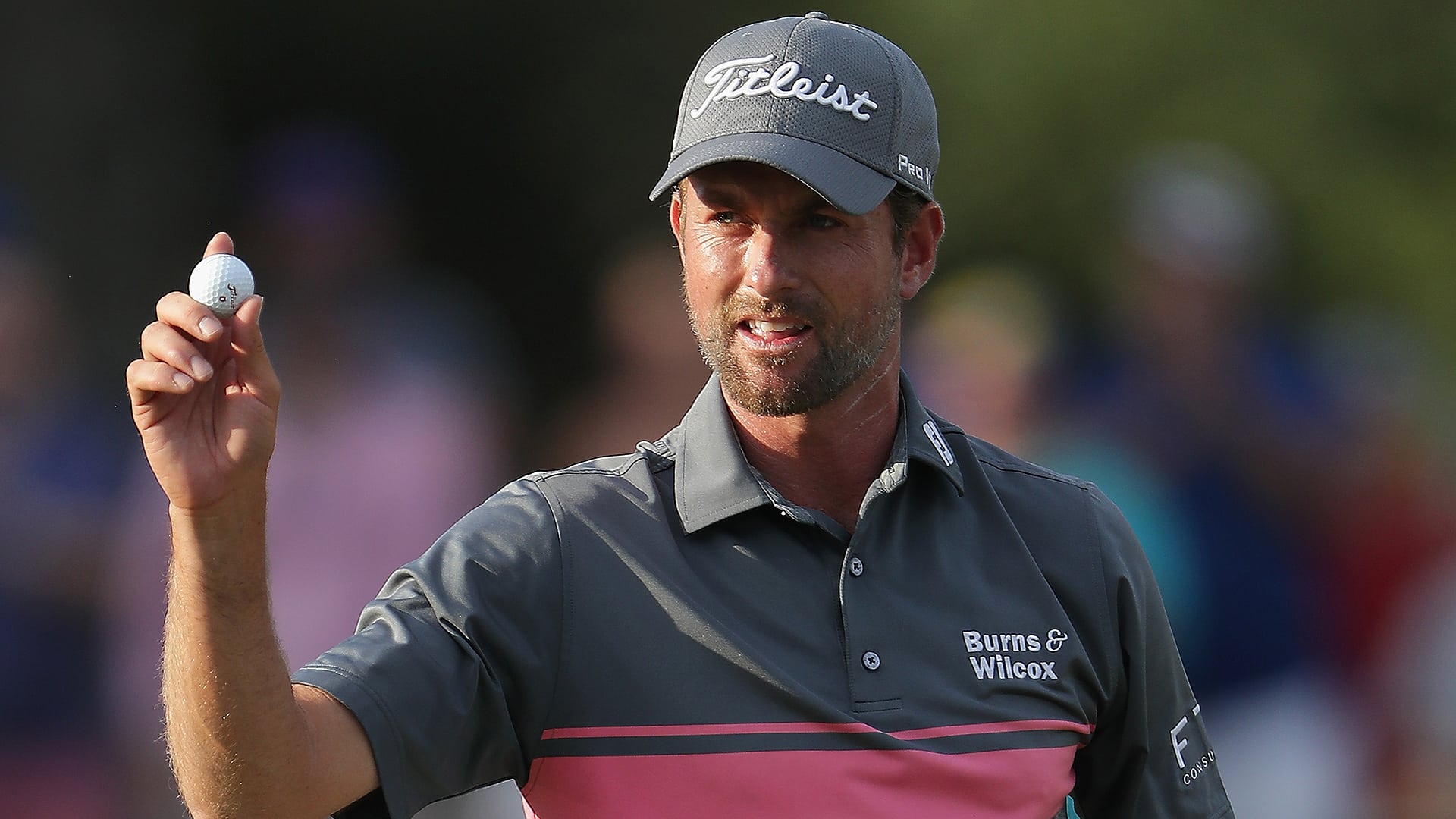 PONTE VEDRA BEACH, Fla. – Even on a course that has a history of favoring the late-breaking horse, this has all the makings of a runaway.
Webb Simpson, the soft-spoken father of four with the salt-and-pepper beard who doesn't exactly have the look of a man accustomed to stepping on the throats of fellow competitors, carved up TPC Sawgrass for the third consecutive day on his way to a commanding seven-stroke advantage over Danny Lee.
In sports there are no guarantees – it's why they prefer to go all 72 before doling out crystal on the PGA Tour – but consider that Simpson could spot his closest challenger a stroke a hole on the front nine on Sunday and still likely ease into the closing loop with a comfortable lead.
At 19 under par following a third-round 68 on a Stadium Course that was much more user friendly than many expected it to be, Simpson's 54-hole advantage is the largest in Players Championship history.
This isn't forgone – it never is when trap doors like the island-green 17th hole loom for any would-be champion – but anything short of a Simpson boat race certainly feels farfetched after three dominant days.
"I said to my caddie I would like to play the golf course he's playing," Jason Day said. "He's clearly playing some tremendous golf and we're the best players in the world and he's making us not look so good."
If Day and the rest of the field needed a paradigm of hope they could peruse The Players history books. This is, after all, where Alex Cejka rode a five-stroke lead into the final round in 2009 only to leave town with a ninth-place check and an abundance of scar tissue. In fact, of the 11 Players held since the event relocated to May, only three 54-hole leaders went on to win.
---
Full-field scores from The Players Championship
The Players Championship: Articles, photos and videos
---
It was no surprise that Simpson, a student of history, had no interest in premature celebrations.
"Eighteen holes, I have a lot of work to do," said Simpson, who last won on Tour in 2014 and in eight starts at The Players has never finished better than 15th.
Although he was able to extend his lead on Day 3, Simpson wasn't perfect, with bogeys at Nos. 8 and 14 wrapped around a birdie at the ninth and sand-shot eagle at the par-5 11th hole.
Some member's bounces have certainly gone Simpson's way this week, but his statistical dominance is every bit as impressive as those red numbers on the leaderboard.
For the week, he ranks first in fairways hit (34 of 42), second in greens in regulation (45 of 54) and first in strokes gained: putting, the latter being a telling statistic for a player who admits that his professional life took a bad turn when the anchoring ban took the belly putter out of his bag in 2016.
Simpson, whose unique putting action is described by his caddie as the (Matt) Kuchar-claw, has converted 39 of 41 putts from 10 feet and in, and punctuated his round with a17-footer for par at the last hole.
"I hope he doesn't putt too well with that thing up the arm or they'll ban that next," joked Adam Scott, who has also dealt with his share of putting demons since the anchoring ban.
Various players made spirited attempts to close the gap on Simpson, most notably Woods who for two days largely hadn't hit the ball close enough and when he did repeatedly failed to convert crucial putts.
But Saturday was different, with Woods igniting the early morning gallery, covering his opening nine in 6 under par on his way to a 65, his lowest score to par on Tour in 1,744 days.
"These guys are going to go low today again," Woods predicted. "It's definitely gettable. I know there's a lot of pressure coming down the back nine here, but I think these guys, the way they have set up the golf course today, it's set up for these guys to go low."
It was one of the few things Woods got wrong on Saturday. Other than Simpson, few players were able to make any meaningful movements, as evidenced by the fact that when Woods signed his scorecard before the leaders had even teed off he was in eighth place. When the dust finally settled on a muggy day he was tied for ninth place.
A few hours later, Ian Poulter was putting the finishing touches on another gem when he lost his way in a greenside bunker at the 18th hole and double bogeyed his way to a 69 and a spot alongside Woods. It was a particularly tough finish for the Englishman, who has a pair of runner-up finishes at The Players and knows as well as anyone how uphill the climb can be when you're trying to play catch-up on a Sunday.
"When I was chasing Henrik [Stenson, 2009] down, Henrik played incredible golf in tough conditions. It's a hard golf course to press on," Poulter said. "The greens need to be soft for someone to go very low to catch someone that's out in front. You're going to need to do what Tiger did on that front side tomorrow; you're going to need to be 6 under through nine."
That gauntlet now falls to the likes of Day, who was on the other side of one of those lopsided races in 2016 when he began the final round at TPC Sawgrass leading by four and cruised to a four-shot victory.
World No. 1 Dustin Johnson, whose 69 on Saturday moved him to 10 under par and into third place, could press the issue; or maybe it'll be Jordan Spieth, who matched Woods' 65 earlier in the day and was tied with the 14-time major champion at 8 under.
But then every possible scenario ends with the same conclusion: Ultimately it will be Simpson who decides if Sunday's last turn is a coronation or something closer to an actual contest.
[ad_2]

Source link