[ad_1]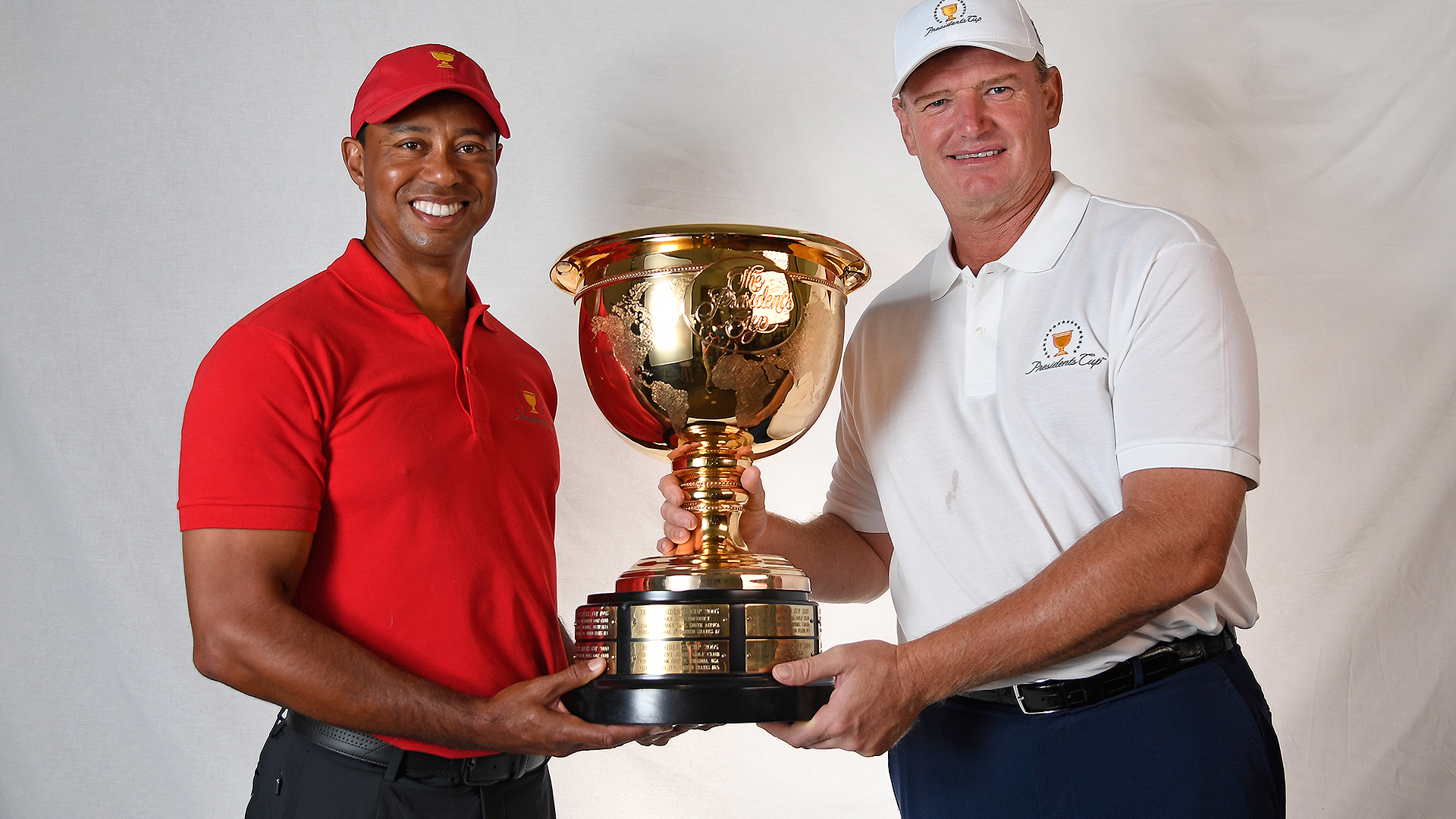 ORLANDO, Fla. – Tiger Woods highlights this week's edition, from his Presidential nod to captain next year's U.S. team to the fuel he's unwittingly adding to already unrealistic expectations.
Made Cut
Presidential pedigree. It was just a matter of time before Woods took his turn as both a Presidents Cup and Ryder Cup captain, but it did qualify as a mild surprise when the PGA Tour announced he will lead the U.S. team next year in Australia.
Woods and Ernie Els will captain the U.S. and International Presidents Cup teams, respectively, in 2019, a move that promises to inject the matches with some new life, at least until the action on the course dictates if this edition will be another blowout.
Having Woods, who will be 43 when the '19 matches are played, should also add a new twist to the event, with his improved play in recent weeks leading to the logical idea that he could be a playing captain.
"I would like to get to a point where I would have to make that decision, get to where I'm playing well enough where I could make the team on points. But I wouldn't want to have the conversation [to be a captain's pick] and go, 'Self,'" Woods laughed. "I don't really want to have that conversation; let's just see how it progresses."
Remembering the King. Wednesday of Bay Hill week used to be the highlight of the year for any scribe with a notebook. That was the day the late Arnold Palmer would give his annual State-of-the-Kingdom press conference and it was always entertaining and insightful.
This year it was Sam Saunders, Palmer's grandson, who addressed the media, and although it's not the same, Saunders continues to impress with his poise and his dedication to what his grandfather stood for.
"It's a celebration," Saunders said of this year's event.
Tournament officials also continued a tradition, with players lining up on the practice tee on Wednesday to hit ceremonial tee shots. Nothing can ever replace what Palmer meant to the game, but taking a moment to remember him is always a good thing.
---
---
Made Cut-Did Not Finish (MDF)
Masters mayhem. Woods' play last week at the Valspar Championship, where he finished runner-up for his best Tour finish since 2013, and another solid start this week at Bay Hill is encouraging, but it's also an indication how quickly things can get out of hand when it comes to the guy with 14 major championships.
Following his round on Thursday, Woods' odds to win the Masters dropped to 8/1, making him the betting favorite, just ahead of Dustin Johnson.
"A lot of gamble-holics out there," Woods shrugged when told his odds.
Odds are based on how much interests the gambling public has in a particular player, not necessarily who should be the favorite, but even for Woods things are getting really silly.
Tweet of the week:
Tiger way too conservative on the last. Can't leave yourself 190+ needing birdie to tie

— Brian Gay (@BrianGayPGA) March 11, 2018
Gay was referring to Woods' decision to hit 2-iron off the tee on the 72nd hole at the Valspar Championship when he was one stroke off the lead.
The instant analysis, which came from every corner, prompted fellow Tour frat brother Scott Brown to fire back:
Really bg. 79 wins bud. You don't question the game plan. He hit that club off the tee everyday this week.

— Scott Brown (@scottbrowngolf) March 12, 2018
Woods pointed out on Thursday at Bay Hill following his first-round 68 that the "narrative" has changed dramatically since he returned from injury this year. To his point, we've evolved from asking questions like, "can he hit driver" to "why wouldn't he hit driver?"
Progress.
---
Missed Cut
Cup concerns. While naming Woods and Els captains of next year's Presidents Cup teams was an easy choice for Tour officials, there remains an inexplicable aversion to any kind of meaningful format change that could make the event competitive.
Despite last year's boat race by the U.S. team, which could have clinched the cup on Saturday, and won by eight points, the only significant changes for the '19 matches were to how many picks each captain now has (four), which was more a timing adjustment with the matches scheduled to be played in December.
For years, three-time International captain Nick Price lobbied to reduce the total number of available points in an attempt to make the event more competitive. The Tour eventually acted, with a four-point reduction, but it wasn't what Price had hoped for as he was pushing for what the Ryder Cup employees, 28 points.
It's been 20 years since the International team won the event, but apparently it's going to take a few more decades of lopsided outcomes for the Tour to act further.
Compression. Although the Tour is still a few weeks away from unveiling the overhauled '19 schedule – players were told at last month's Honda Classic an announcement will be made at The Players in May – some parts of the new line up are falling into place.
Of particular interest is how the spring will unfold, with multiple sources confirming that the WGC-Mexico Championship will be played the week after the Genesis Open, followed by the Honda Classic, Arnold Palmer Invitational, Players Championship, Valspar Championship, Texas Open and the Masters.
That's a major, the game's preeminent mid-major at TPC Sawgrass and two World Golf Championships in an eight-week window.
The circuit's plan to condense the schedule before the start of football season has been embraced in most circles as a much-needed and progressive step in the right direction, but the prospective spring line up is an indication that compression will not be painless.


[ad_2]

Source link