[ad_1]

England, represented by Eddie Pepperell and Matt Wallace, and the England Women's Team of Georgia Hall and Charley Hull will go head-to-head at GolfSixes after the draw for this year's competition was made at host venue Centurion Club in St Albans, near London.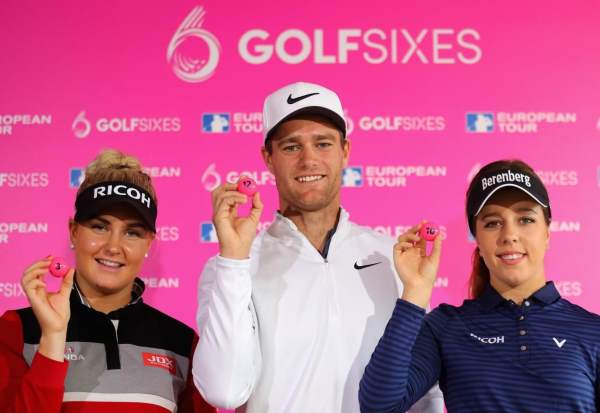 Hall and Hull made the draw alongside Lucas Bjerregaard, who won the inaugural event for Team Denmark with Thorbjørn Olesen, for the group stage of the second edition of GolfSixes, which takes place this weekend (May 5-6)and tickets are available to buy now HERE
The two England teams will also face Sweden and South Africa in Group D.
The Captains Team of 2018 Ryder Cup Captain Thomas Bjørn and 2019 Solheim Cup Captain Catriona Matthew were drawn alongside 2016 runners-up Australia, Spain and South Korea in Group B.
Team Denmark will take on Thailand, the United States and the European Women's Team of Suzann Pettersen and Mel Reid.
The final wildcard team, Ireland, represented by Paul Dunne and Gavin Moynihan, were drawn against France, Italy and Scotland in Group C.
The 16 teams will compete over six holes in a group stage, with teams split into four groups of four, before the top two teams from each group progress to the knockout stages – the quarter-finals, the semi-finals, a third/fourth place play-off match and the final.
In the group stages, three points will be given for victory with one point awarded for a draw and the matches will be played in a greensomes match play format.
Once again the six holes will be themed, with the popular shot clock hole returning – with a penalty imposed if players take longer than 30 seconds per shot – alongside the long drive and closest to the pin holes. The innovative six-hole competition will have a festival feel with a centrally-located Fan Zone full of entertainment for all the family.
Simon Gidman, the Centurion Club's golf course architect, told GBN, "As the architect for the golf course and been involved with it for some 10 years prior to opening, I was keen to go to last years' SIXES tournament for two reasons. One was purely professional to see how the top players played the course and the other, of course, was to see how well the tournament was received. The course is ideally laid out for this tournament as you can easily play the 6 holes close to the clubhouse and there are wonderful vantage points on each hole to view the action.
"What was interesting, from merely a spectators point of view, was to see how the event attracted so many families and youngsters. The competition is geared to the family – the pros make a great effort to interact with the public, there is no end of high-fiving, music is playing on each tee and there is an announcer on each hole telling the public who is playing and what the scores are. Furthermore, speed of play is an important issue and golfers can be penalised on some tees if a shot takes longer than allowed.
"It is a very relaxed event and the pros go out of their way talk to the spectators and for a youngster that must be a marvellous moment."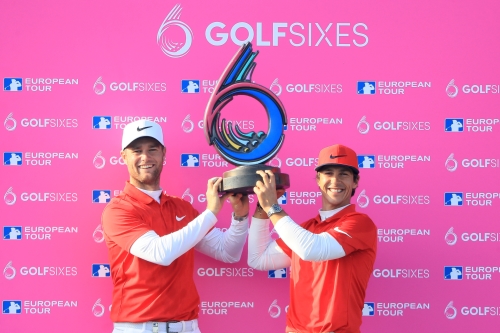 Georgia Hall said: "It should be a great match. I've never played with Matt or Eddie before, so we'll see how it goes, but I just can't wait for the week to get started.
"We play against the same players every week so for us to play against the men is a big change but I think it will be awesome. I'm ready to give it my best against them. I can't wait. It's in England which is quite rare for females who play in the LPGA to play at home.
"I think the big thing is that this is something different, it's only six holes so you get a result quite quickly and then the next team comes along. I think it's great for fans.
"Me and Charley have known each other since we were ten and played throughout England together and Solheim Cup in a match together. We have similar games, we're quite aggressive, so I think it will be a good week."
Charley Hull said: "I've played with Eddie before. He's a really nice guy and he's playing some good golf so it will be fun to play with him.
"I'm really looking forward to it, it's going to be good fun to try something different. I haven't really played in an event like this before.
"It's a good thing for golf and I think the fans will enjoy it too. It will be good fun, the home fans will get to see two sides with the women and the men playing. I think it will get all different people into the event."
Lucas Bjerregaard said: "It was a lot of fun last year and just a great event, we're looking forward to defending. It was great to see all the kids last year just having a blast. Everyone in the fanzone and out on the course, people just seemed to think it was a lot of fun.
"I think the fact that it's only six holes makes it so much easier for kids to enjoy. It's not a whole day, and there's lots of other stuff they can do. It was just an amazing couple of days and I'm really looking forward to it again.
"GolfSixes started a whole bunch of things last year like the shot clock, and now we have the Shot Clock Masters event. They are trying new things and are not afraid of it. I can't remember ladies and men playing against each other in matches like these before so it's going to be very interesting and I think we're going to have a tough time beating them.
"We don't interact that much between the two tours and it's a great way to start that up a bit more. Hopefully and I think it's going to be a great success as well. It's going to be a lot of fun, as I said it will be tough to beat them but I hope it's really good because that could start something going down the line."
European Tour www.europeantour.com
[ad_2]

Source link