[ad_1]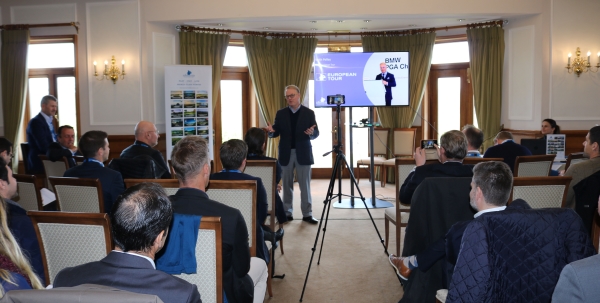 European Tour Chief Executive Keith Pelley delivered an inspiring keynote speech at the European Tour Properties Conference, encouraging venues to share ideas and innovate to grow the game.
Representatives from the 26-strong network of world-class golf venues, including delegates from the Middle East and South East Asia, attended the three-day event at London Golf Club, March 13-15.
Keith Pelley said: "I believe bringing venues together and sharing ideas is absolutely critical. We know that golf needs to modify itself and extend the demographic if it is to grow – and the best way to do this is to share ideas, which is what we are doing here at this conference.
"Those ideas are not only coming from The European Tour; it is a time for us to listen and hear what is going on out there in the market place and then we can adapt."
During a question and answer session, Keith Pelley talked about the importance of new, entertaining formats in golf to reach and engage larger audiences, emphasising GolfSixes and the opportunity for venues to adapt the format for their own club competitions.
He also encouraged venues to embrace customer-centric innovation, specifically referencing Topgolf, golf simulators and innovative apps such as eGull Pay, to be launched at GolfSixes and supported by the European Tour, enabling golfers to play and pay by the hole.
Keith Pelley added: "The European Tour Properties network is very important to us as it is a great building ground to create new tournaments, whether it be on the Staysure Tour, the Challenge Tour or the European Tour itself. These tournaments benefit both the European Tour and individual venues."
Tournament hosting was a key topic during the conference. Richard Hills, Ryder Cup Europe Director, and Paul Armitage, General Manager of Le Golf National, presented insights on preparations for The 2018 Ryder Cup and HNA Open de France, a Rolex Series event.
Stephen Follett, CEO of London Golf Club, also spoke about the benefits of tournament hosting, from the European Masters and the Volvo World Match Play Championship to the inaugural Staysure PGA Seniors Championship, which will take place in August 2018.
There were also insightful presentations from senior European Tour personnel including Tom Johnson, Head of Marketing, Roddy Williams, Head of Content, and Max Hamilton, Head of Commercial Partnerships and Sales.
European Tour Properties Director of Operations Iain McInally said: "European Tour Properties is an expanding network and its value is clearly demonstrated in the conference, which has become an important annual event for our venues. It is a place to meet, share ideas, learn and do business.
"As the European Tour becomes increasingly global and more consumers engage with our brand, trusting in it as a stamp of quality, the more opportunities and value there will be for venues."
European Tour Properties continues to grow and in addition to the 26 world-class venues, two projects currently in their development phase are also part of the expanding portfolio: Rossington Hall near Doncaster, England and Tosse, located in south west France.
European Tour Properties www.europeantourproperties.com
[ad_2]

Source link