[ad_1]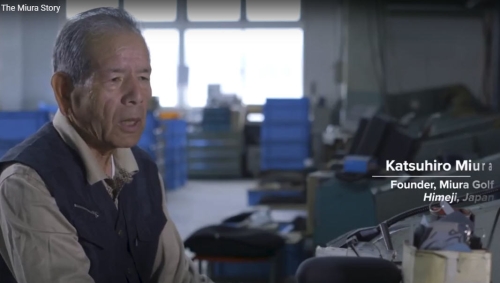 The inside story behind one of golf's most iconic and mysterious brands is  unveiled with the release of the film documentary, Discovering Perfection: The Miura Story (embedded below)
The short-documentary on the Japanese club manufacturer takes golf fans, documentary buffs and aficionados of Japanese craftsmanship into the world of the Miura family. Billed as the world's finest forged golf clubs, Miura's story began in 1957 when the company's founder, Katsuhiro Miura, began hand-grinding golf clubs. The documentary, set in three chapters, uncovers the history of the brand, explores its building techniques, and discovers the legacy of the most storied and secretive manufacturer in golf history.
"Behind the world's finest forged golf clubs is a compelling story," says Howard Milstein, Executive Producer. "Since 1957, the Miura family has been hands-on, designing and constructing premium golf clubs that set the industry standard. There's precision every step of the way and this documentary showcases the tradition and incredible craftsmanship that creates one of the most interesting stories in the golf industry."
Chapter 1: The Mystery
Miura's history is deeply rooted in this tradition of excellence, creating a unique ancestry in the manufacturing of steel golf clubs. The story begins in Himeji, Japan, where we uncover the birthplace of the Miura golf club and its founder, "Miura-San", Katsuhiro Miura.
Chapter 2: The Laboratory
The story continues as Miura-san goes on to teach his sons, Yoshitaka and Shinei, the fine art of crafting steel golf clubs. The unique design and manufacturing process is revealed, unveiling the iconic Miura way. Discover what truly makes a Miura club stand above the rest, from a golfer and clubfitter's viewpoint.
Chapter 3: The Golfer's Sword
Although Miura has made a significant impact on the industry's past and present, the story does not simply end as Miura-san, Yoshitaka, and Shinei reflect on their historic contributions to the golf industry. In this epic conclusion, learn what can be expected from the renowned brand and its impending legacy.
The film, supported by Executive Producer Howard Milstein, was captured throughout 2017 by a Canadian documentary film-team that traveled to Japan and throughout North America in putting together this story. By meeting with Miura family members, the American management group, and advocates of the clubs, the film takes a non-partisan exploration route to discovering what goes into these clubs being considered the finest in the world.
Miura Golf http://www.miuragolf.com
[ad_2]

Source link