[ad_1]

Wiltshire-based golf and sports turf contractor, MJ Abbott Limited, was recognised at Rain Bird's distributor and contractor awards ceremony held at the Golf Industry Show in San Antonio.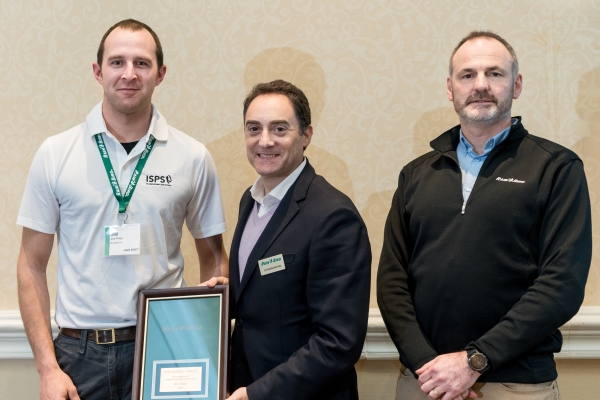 Contracts Director Steve Briggs and Contracts Managers Nathan George and Jim Price were there to accept the 'Top Flight' award for exceptional growth on the company's behalf.
The presentation of awards is a celebratory conclusion to Rain Bird's training and education event for golf contractors and distributors, which takes place at the show each year.
"2017 was a busy year for us," Nathan George explained. "Many of our golf customers upgraded their central controllers, weather stations and rotors to provide the greatest efficiencies and levels of control. Our construction teams are currently building the brand-new course at Royal Norwich where a fully-integrated Rain Bird IC system is being installed. It was great to hear all about global developments at the training event and to receive this award in recognition of our achievements as an Approved Rain Bird Contractor."
Rain Bird's Regional Golf Sales Manager for the UK, Ireland, Iceland and Scandinavia, Jimmy Sandison, said: "It was fantastic to see a UK contractor recognised at our annual awards ceremony. MJ Abbott had a superb year working with us to grow their golf business. As a company, we are grateful for their installation expertise, and for the first-class support they continue to provide to Rain Bird system and Global Service Plan users across the country."
Rain Bird Corporation is a privately held company founded in 1933 and a leading global manufacturer, providing a broad range of irrigation products and services for agricultural, golf, sports, residential and commercial markets in more than 130 countries.
The UK, Ireland, Iceland and Scandinavia golf business unit is managed by a small yet strong team:
Jimmy Sandison: Regional Golf Sales Manager with 28 years' experience in irrigation technical support and sales. Responsible for golf sales in the UK, Ireland, Iceland and Scandinavia with significant knowledge of irrigation solutions in the golf sector.
Stuart Tate: European Specification Manager with 28 years' experience in the irrigation business. A former golf consultant strong design, technical and water engineering expertise. Specifies Rain Bird systems for new and existing courses.
Alastair Higgs: Golf District Manager. A former Golf Course Manager with a strong background in agronomy, system use and best practice in golf course irrigation. Provides customers with system training and practical support and is responsible for business development in the UK and Ireland.
MJ Abbott http://www.mjabbott.co.uk/
Rain Bird www.rainbird.eu/golf
[ad_2]

Source link