[ad_1]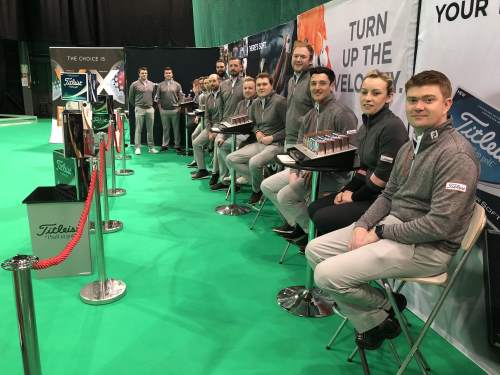 Following the success of 2017's extensive series of custom fitting events, Titleist is investing even more into this area to help more golfers shoot lower scores in 2018. Led by the brand's 15-strong expert team of Product Specialists, Titleist will host more than 1,500 ball and club fitting events throughout the UK & Ireland this year, with the aim to fit over 25,000 golfers for the best Titleist ball and clubs for their games.
This year's extensive fitting series will comprise of Titleist Golf Club Fitting Days at partner golf clubs nationwide, Golf Ball fitting & selection events, Vokey Wedge Experience events, Scotty Cameron Experience days, as well as the extremely popular 'Titleist Thursdays', a series of advanced fittings to be staged on consecutive Thursdays throughout the season, from The Masters Tournament through to the end of the golfing season.
Based all around the UK & Ireland, Titleist's highly trained team of Product Specialists will continue to support its extensive network of Fitting Partners. All fitting events will see Titleist Product Specialists work with golfers to optimise ball and club performance and fine-tune set composition in order to help them play better golf. As part of the brand's commitment to custom fitting, this year Titleist has invested even more into its fitting department and, as a result, has grown its expert team across both ball and club categories. New appointments include:
Product Specialist Manager, James Robinson will oversee the entire Club Fitting Product Specialist team, ensuring dedicated golfers receive the best possible fittings, matching the service offered to our Titleist Brand Ambassadors
Golf Ball Product Specialist, Joe Smith – former Product Specialist through-the-bag – Joe joins Anthony Williams and David Guthrie in the team responsible for finding golfers the best Titleist golf ball for their games
Vokey Wedge Product Specialist, Will Harvey becomes the first ever dedicated Vokey Wedge specialist. With 23 different loft, bounce and grind options in the new Vokey Design SM7 wedges, it is more important than ever that golfers are custom fitted in order to find the best wedge set-up to help them shoot lower scores
Product Specialist, Alistair Thompson strengthens the team in the Scottish region, helping bring custom fitting to even more venues this year
Frazer Jones joins the team as another Product Specialist looking after the Chester, Staffordshire, West Midlands, Warwickshire, Derbyshire, Shropshire and South Yorkshire regions

Titleist's Golf Ball Product Specialist Team welcome a third addition Joe Smith

Product Specialist, Matt Crowhurst, takes over Hertfordshire, Greater London (North of the river), Rutland, Bedfordshire, Northamptonshire, Nottinghamshire, Leicestershire and Lincolnshire
During the custom fitting events, golfers will benefit from the use of TrackMan Launch Monitor technology to find the best ball for their game and trial Titleist's industry-leading range of tour-proven golf clubs, including the Titleist 917 Drivers and Fairway metals, Titleist's new range of 818 hybrids, 718 irons and SM7 Vokey Design Wedges.
Chris Beaumont, Titleist Golf Club Marketing Manager, said: "2017 saw us launch our most extensive list of custom fitting events, to huge success. This year we have invested even more into affording all golfers throughout the UK & Ireland increased opportunities to find the best Titleist equipment to help them shoot lower scores.
"It is also with great excitement that we welcome our new appointments and see our team of Product Specialists flourish. With a wealth of fitting knowledge and passion for the game amongst them, these new appointments will play an invaluable role in helping dedicated golfers to find the equipment solutions for their games, all-the-while enjoying a unique experience."
To find out further information about the many Titleist fitting events coming to the UK and Ireland this golfing season, or to get to know Titleist's team of Product Specialists, visit titleist.co.uk and click the 'fitting' tab.
Titleist's Product Specialist Team.jpg
[ad_2]

Source link