[ad_1]

Aaron Wise asserts himself, Trinity Forest draws mixed reviews, Tiger Woods hangs out in Vegas, and somebody punches somebody else – maybe. All that and more in this week's edition of Monday Scramble.

Aaron Wise's learning curve lasted exactly 17 starts. That's how many events he had played as an official PGA Tour member before breaking through for his maiden win Sunday at the AT&T Byron Nelson. A kid plenty ready for the moment, the 2016 NCAA Division I individual champion entered the final round tied for the lead and ran away from Marc Leishman with six birdies in a seven-hole stretch. Once firmly in control, Wise made eight straight pars on his way into the clubhouse. Heady stuff for a 21-year-old.
You need look back only a couple weeks for evidence that Wise was ready for something like this. Saturday at the Wells Fargo Championship, he could have melted down on the 18th hole. With his ball sitting on a steep bank inside the hazard line, Wise thought about taking a drop next to the green but ultimately chose after minutes of indecision to play it where it was. And he whiffed. He went right under it. He thinned his next shot over the green and looked as though he was going to throw away three days of fabulous play all at once. Instead, he steeled himself and chipped in to save his bogey-5.
Although Wise couldn't run down Jason Day a day later, his tie for second played a vital role in propelling him to victory just two weeks later. Wise said he felt "oddly calm" in the final round and that his experience at Quail Hollow had filled him with the self-belief he needed to close out his first win.
Mark down Wise as yet another young force to be reckoned with, as if there was somehow a shortage of those on Tour.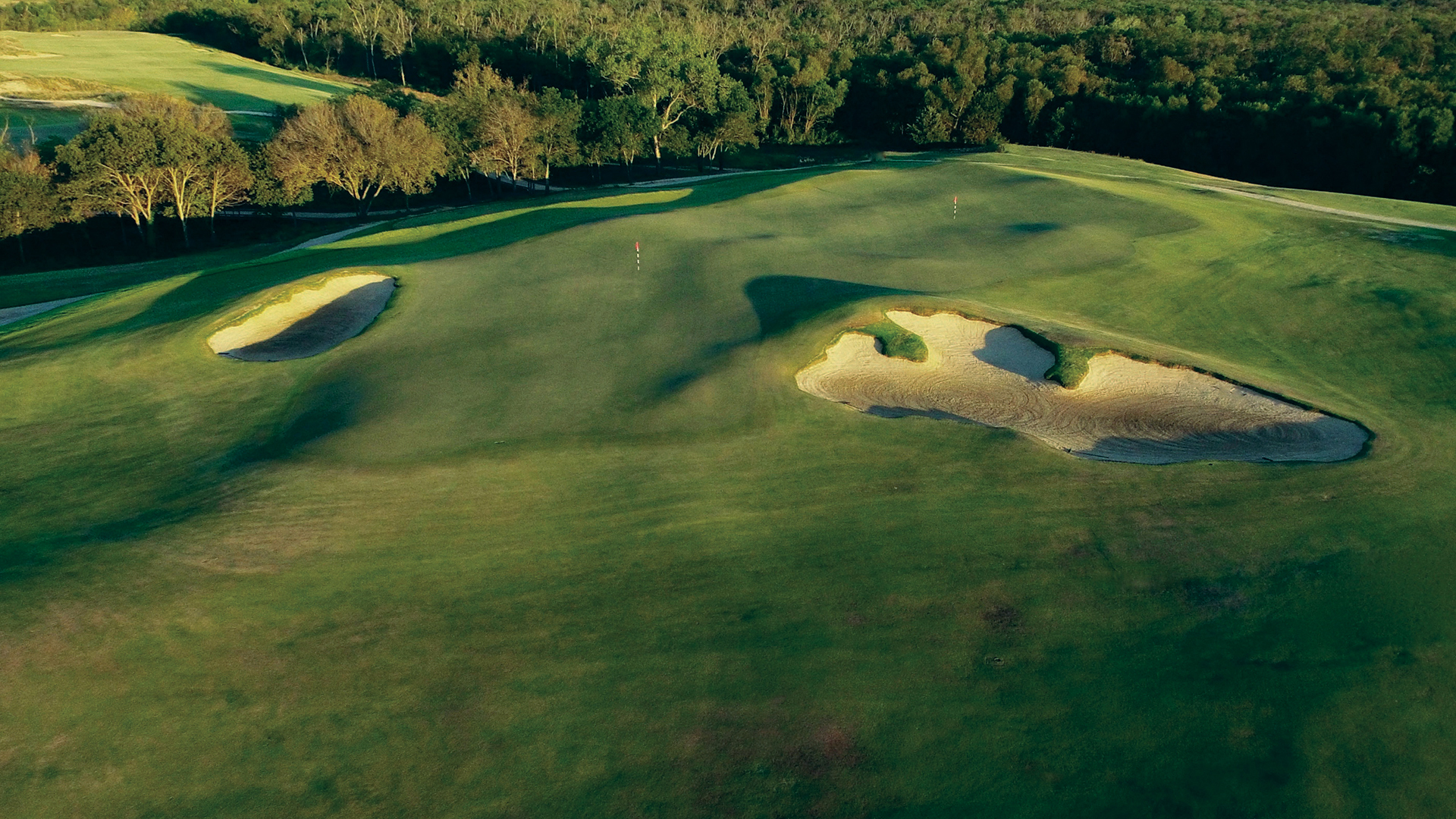 ---
1. Let's go to the golf course. The Nelson's move to Trinity Forest was met with plenty of skepticism from players, some of whom simply stayed away.
The event's OWGR winner's points and strength of field dropped to 34 and 178, respectively, from 50 and 335 one year ago. The Nelson's strength of field was the lowest for a PGA Tour event in 2018 (excluding the opposite-field Coarles) and looked more in line with what you might expect during the wraparound portion of the schedule.
It's certainly possible top players are taking a wait-and-see approach to the course, but if the Nelson does wind up sandwiched between the Wells Fargo and the PGA, Trinity Forest is not going to be any kind of warmup for a Bethpage Black or a Harding Park or an Oak Hill, not when Quail Hollow is a PGA Championship layout. 
---
---
2. And if players are waiting on positive reviews to lure them to a venue that bares little resemblance to any other course on the PGA Tour schedule, they're not going to hear anything positive from Matt Kuchar. Asked on Thursday about the layout, Kuchar answered, "If you don't have anything nice to say, don't say anything at all," before adding, "I really liked Las Colinas. That place was great. I really, really enjoyed Las Colinas." After missing the cut, Kuchar admitted his distaste for the layout negatively affected his play, leaving architecture enthusiasts surely enraged.
Objectively, Las Colinas was an immaculately conditioned TPC devoid of character, and Trinity Forest is a rugged, minimalist tract with so much character it could border on caricature under certain conditions. The two designs have nothing in common, and Tour types are generally resistant to change, a sentiment summed up well by Adam Scott: "Majorities just don't like different, do they? This is just different than what we normally roll out and play." On the plus side, Jordan Spieth, a Trinity member, said that many of the guys who did show up enjoyed the course more and more after each round. Architect Ben Crenshaw is hoping good word will spread. 
There's nothing wrong with Trinity Forest. It was actually nice to see something a little different on Tour. But the Nelson's place on the schedule may prove an obstacle to attracting the game's best regardless of where the event calls home.
---
---
3. As for the top talent who did show up, Spieth – say it with me now – was once again let down by his putter. The club that played such a pivotal role in his three major victories has abandoned him this season. Spieth entered the week second on Tour in strokes gained: tee-to-green and 183rd in strokes gained: putting. When he walked off the final green Sunday at Trinity Forest he was third in the field in SG: off-the-tee, fourth in SG: tee-to-green, fourth in proximity to the hole and 72nd in SG: putting. Those numbers left him 12 shots behind young Mr. Wise.
Remember when Spieth was a 21-year-old dusting the best in the world? Those were the days.
In all seriousness, the putting will get better, and when he finally matches general competence on the greens with his elite ball-striking, he'll finally capture his first trophy of the season. Don't be surprised if it happens this week at Colonial in another hometown event, one he won in 2016.
---
---
4.The aforementioned Scott remains – by the slimmest of margins – unqualified for the U.S. Open. Needing to crack the Official World Golf Ranking's top 60, Scott appeared to have done enough when he closed a final-round 65 with a birdie to pull into a four-way tie for sixth. Unfortunately, just moments later, he'd drop into a three-way tie for ninth, missing out by a single shot. 
Scott has played the last 67 majors in a row, dating back to 2001. It's a streak bested by only Sergio Garcia. Having missed this week's cutoff, he'll need to either head to sectional qualifying on June 4 or be inside the top 60 on June 11.
5. I understand golf is different than basketball and football, but the concern over how gambling might negatively impact the game feels a little like pearl-clutching. Yes, some idiot with money on the line could yell in somebody's backswing on the 72nd hole. That absolutely could happen. And yet, somehow we survive every Open Championship and every other tournament played in countries that allow gambling.
Then again, fans outside the U.S. don't yell mashed potatoes or baba booey.
I take it all back. We've made a huge mistake.
---
---
6. You might not be familiar with the name Adrian Otaegui, but that could change in a hurry if he keeps up his current form. The 25-year-old Spaniard just backed up a runner-up at the Volvo China Open with a win at the Belgian Knockout.
He's finished in the top 20 in each of his last six European Tour starts and he hasn't finished worse than T-40 in nine events. Both of his wins in the last year have come via match play (or something close enough in the case of the Knockout). With the victory, Otaegui is now up to 77th in the world, making him the fourth-highest Spaniard behind Jon Rahm, Sergio Garcia, and Rafa Cabrera Bello. 
7. While we're on the subject of the Belgian Knockout, two notes about the format. First, credit again goes to Keith Pelley and company for being unafraid to try something other than 72 holes of stroke play.
The rechristened Belgian Open, which had been dormant since 2000, featured 36 holes of normal stroke play qualifying before giving way to nine-hole, head-to-head stroke play in the knockout rounds. Considering how divisive the WGC-Match Play's round-robin format has become, early-stage stroke play does seem like an easy enough solution when it comes to both cutting the field and protecting the game's biggest stars from a Day 1 exit.
8. For the second time in as many events, the LPGA shortened an event due to weather.
Current situation @KingsmillLPGA. pic.twitter.com/DtF68O5aGE

— LPGA (@LPGA) May 19, 2018
At least the circuit was able to finish three rounds this time. Two players actually got in 56 holes, with Ariya Jutanugarn defeating Nasa Kataoka in a playoff. The victory is Ariya's first of 2018, but the Jutanugarns' second, following Moriya's breakthrough last month in L.A.
9. The Most Interesting Man in the World, Miguel Angel Jimenez, captured his first senior major at the Regions Tradition, but how about Steve Stricker's start to his PGA Tour Champions career? He's gone T5-1-1-T2-T2. Look out, Langer.
Didn't mean to shortchange Jimenez there. Just figured this image summed up the moment.
"It's nice."

Miguel Angel Jimenez is a man of few words, but many talents as he claims his first major title.https://t.co/pUjIcVR6e8 pic.twitter.com/ufCe13OT75

— Golf Central (@GolfCentral) May 20, 2018
10. It never ceases to be amazing, by the way, the fine line between the wilderness and a PGA Tour card. Michael Arnaud had made just one Web.com start this year, and he shot an 81. He made only two of five cuts on the Web all last year. On Tuesday, he was in Oklahoma preparing to play an Adams Tour event when he was informed that he had been moved up to first alternate at the BMW Charity Pro-Am. So he took his chances and raced to South Carolina. He was the very last man into the field. And now he's a Web.com winner, inside the top 25 on the money list. All it takes is one great week to rejuvenate a career. 

---
Our Ryan Lavner normally writes this column, but he's on NCAA duty the next couple weeks. That said, he is checking in with this story about an alleged fist fight at the Florida Mid-Am! Here's a little taste:
In a one-paragraph post on its website, the Florida State Golf Association declared Marc Dull the winner of the 37th Mid-Amateur Championship on May 13 after his opponent – in a tie match with two holes to go – was unable to return because of an "unfortunate injury" sustained during a lengthy weather delay.
Left unreported was what allegedly happened.
According to a police report (see below) obtained by GolfChannel.com, the Charlotte County Sheriff's Office received a call that afternoon from Dull's opponent, Jeff Golden, who claimed that he'd been assaulted in the parking lot at Coral Creek Club, the tournament host site in Placida. In a statement provided to police, Golden said that he was sucker-punched in the face by Dull's caddie, Brandon Hibbs.
You know you want more. Click here.

This week's award winners …
A master class in big timing: Hosting his annual Tiger Jam event at Shadow Creek in Las Vegas, Tiger Woods "challenged" World Long Drive competitor Troy Mullins to a showdown, but rather than wait and see who won, Woods got up on the tee, unleashed a drive, and simply walked away, going full mic drop.
This may have been a savvy play by Tiger, considering Mullins won a WLD event last summer with a drive of 374 yards.
Life is just a party and parties weren't meant to last: We compiled a photo gallery of some of Woods' best celebrity interactions at Tiger Jam over the years, but this image tops them all:
I was lucky to have met and witnessed the most talented entertainer in history. Rest in peace my brotha. pic.twitter.com/ZXB5BfBVMS

— Tiger Woods (@TigerWoods) April 22, 2016
Who needs local knowledge? Tip of the cap to Hideki Matsuyama and his caddie for this read. "I think we start this a good 10 feet left, let it funnel right, and then it should take a hard left at the hole."
A putt you have to see to believe.

Will it be good enough for this week's #MustSeeMoments? https://t.co/EnqKxqbpf0 pic.twitter.com/lRaVdKToYw

— PGA TOUR (@PGATOUR) May 20, 2018
Kuchar should have just done that.
Belgian Wave: Is this the opposite of a Belgian Dip?
A Belgian wave! pic.twitter.com/X2eoaunFb0

— The European Tour (@EuropeanTour) May 19, 2018
New rule: Backstopping is absolutely fine as long as we stop marking balls altogether.
Byron Nelson was a man of valor and swagger. pic.twitter.com/z9hXbxHkw7

— PGA TOUR (@PGATOUR) May 20, 2018
And finally:
Don't be that guy. pic.twitter.com/AgIgg5uAjE

— Skratch (@Skratch) May 19, 2018
I like to think we have a lot in common, as I randomly pick up this column, quickly put it back down, and then try to (not-so) casually slip away. Cheers, buddy.


[ad_2]

Source link