[ad_1]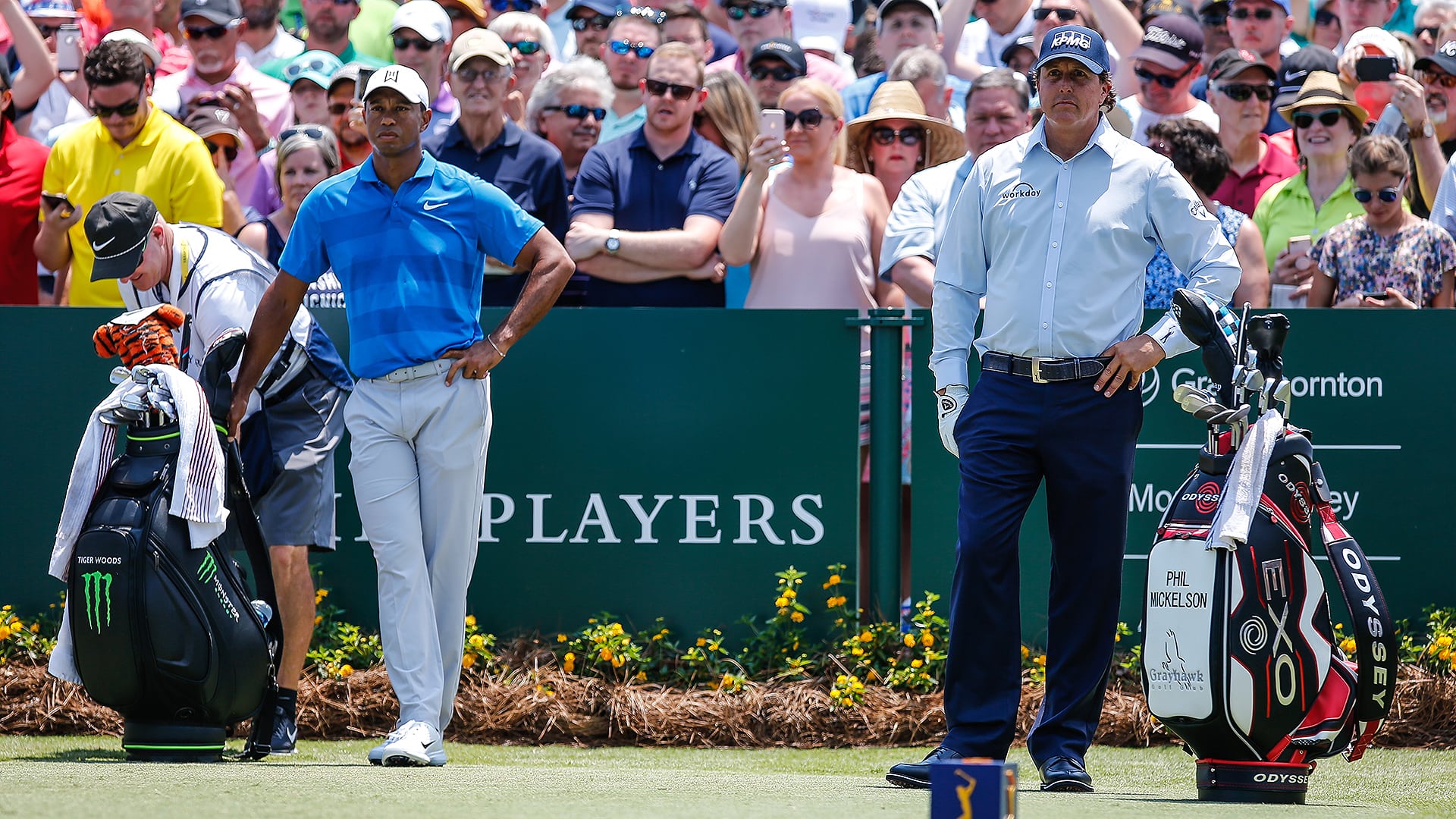 PONTE VEDRA BEACH, Fla. – Lights, camera, inaction.
It was all there on Thursday at TPC Sawgrass. The crowds ringed every fairway, bright and enthusiastic, the weather was perfect even by Florida standards and the star attraction, the players, assembled dutifully on the first tee.
"It's going to be a fun couple of days," Phil Mickelson told Joe LaCava, Tiger Woods' caddie, as the show was set to begin.
If Thursday at The Players qualified as "fun" for any of the day's marquee threesome perhaps they should consider dental surgery as a way to blow off some steam.
What began with so much promise ended with some whimpers and a few hopeful nods to what Friday could bring.
All told, Woods, Mickelson and Rickie Fowler, the third member of the must-see three-ball, combined to shoot 9 over on Day 1, a sum that's a bit exaggerated by Lefty's 7-over 79 but surprising nonetheless.
"Seemed like this golf course could have been had today," figured Woods, whose even-par 72 was anything but even but it did win him low-star honors in his group. "A lot of guys were under par, a bunch of guys in the 60s today, and it was playing a little bit on the softer side."
Thirty-eight players posted rounds in the 60s, including a six-some that made it to 6 under for a share of a crowded lead. None of those players came from either of the day's marquee groupings.
On the other side of the draw, Justin Thomas, Rory McIlroy and Jordan Spieth, the last three FedExCup champions, were only slightly better than Tiger & Co., combining for a 5-over total.
---
Full-field scores from the The Players Championship
The Players Championship: Articles, photos and videos
---
Following nearly a week of buildup after the PGA Tour unveiled its heavyweight title bouts, a capacity crowd at TPC Sawgrass was treated to what could kindly be considered some featherweight performances.
This isn't a knock against any of the star players – even on its most benign day the Stadium Course is still one of the game's most demanding tests – or the Tour, which had for so long avoided the always-coveted Tiger-Phil pairing. This is, simply put, the way these things work out more times than not.
As much hope and hype as the groupings produced, these types of manufactured opportunities rarely deliver. It's the same way in every other sport. You don't get a Game 7 atmosphere in October in the NBA, no matter how much energy or history the teams may have.
Real excitement is born organically and often depends as much on good fortune as it does good play.
"I knew this was going to be an issue. I said it Sunday at Wells Fargo [Championship], I was worried about energy this week," said Mickelson, whose 79 was his worst score at TPC Sawgrass in 18 years. "I just kind of ran out at the end. I had a lot of fun, enjoyed being with the guys. I just had a poor finish, 7 over the last five. That's the day."
That was not the day anyone else expected.
It was Lefty, in fact, who added to the pre-tournament hype when he jokingly suggested he and Tiger would be better off bypassing the formality of 54 holes and going directly to a head-to-head match, and Woods played along.
"I'm definitely not against that. We'll play for whatever makes him uncomfortable," Woods smiled.
For those scoring at home, Woods won his head-to-head match with Mickelson, 1 up, but that was probably little consolation for either player, who found themselves well off the lead.
For Woods, Thursday's round was a continuation of last week, when he tied for 55th place at Quail Hollow following his worst putting week of the season.
He needed 16 putts to cover the opening nine on Thursday and extended his streak of no birdies or better to 28 holes, dating back to the third round last week, until he rolled in an 18-footer for eagle at the ninth hole.
He finally went under par with a birdie at the 12th hole but failed to get up and down at No. 15 and found the water with his tee shot at the 18th hole.
"Well I got to drive it a little bit better than I did today and obviously hit the ball closer," Woods said. "Starting to putt good again and get on greens that I know, and I just need to get the ball a little bit closer and a little bit faster than I did today."
It was only apropos that the Stadium Course's most iconic hole, No. 17, also turned out to be a microcosm for what's arguably the game's most iconic players.
Playing early, Thomas set the tone with a three-putt bogey. Hours later, Mickelson and Fowler both found the lake – you know the deal, rinse and repeat – and Woods was lucky to hold the green on his way to a par. All told, the high-profile six-some played the island hole in 5 over par.
Anticipating something special, the crowds provided the ultimate barometer for the day's marquee groups, quietly commenting after every missed shot and untimely miscue.
"It was actually quieter out there than I thought it would be. It wasn't bad," McIlroy said. "It was a nice morning round, I didn't feel like there was any more atmosphere out there than there usually would have been. That might be a little bit different tomorrow afternoon."
Perhaps the game's most high-profile players can deliver on all that promise on Friday, but history suggests you shouldn't count on it.
[ad_2]

Source link