[ad_1]

Jason Day toughs it out, Tiger Woods loses his stroke, Justin Thomas borrows a putter, Bernhard Langer proves he's not fading and more in this week's edition of Monday Scramble:

Each of the top players brings something different to the game – it's what makes pro golf so compelling at the moment.
Jordan Spieth has a secret playbook for majors. Rory McIlroy has the flair. Dustin Johnson the swagger, Jon Rahm the mood swings and Justin Thomas the firepower.
As for Jason Day? He brings an insatiable hunger to be No. 1, and he'll work harder than anyone to get there.
In recent years, Spieth, McIlroy and Johnson have almost dismissed the top ranking – that it's merely a byproduct of sustained great play, and once they've achieved it, it's on to the next goal.
Day has gotten there, too, for 51 weeks, and he craves the validation that comes with the 24/7 sacrifice. After his second victory of the season, he appears ready to climb that mountain again.

---
1. Day is turning into one of the game's elite closers.
That's five in a row converting an outright 54-hole lead, turning an uneven round into a comfortable two-shot victory with two clutch shots late.
On 16, he hammered a 380-yard drive, then wedged to 10 feet for the go-ahead birdie. Then on 17, he nearly aced the 230-yard par 3, his ball whacking off the bottom of the flagstick and settling within a few feet.
Even with shaky iron play – he ranked 50th in strokes gained: approach the green – he still closed with 69.
"To be clutch like that," he said, "it's a lot of heart."
71st hole. Solo leader. Middle of the green?

How about RIGHT AT IT?!#LiveUnderPar pic.twitter.com/eSWxq0cjUa


— PGA TOUR (@PGATOUR) May 6, 2018
---
2. Day's mentor gave him a boost on the eve of the final round. Tiger Woods sent the Australian a text that read: "Great playing. Get this thing done."
Woods has made similar gestures in the past, but for Day it never gets old. "It's always good to have arguably the best player in the world text you on a Saturday night before the tournament and really give you a good pump in the right direction," he said.
Woods talked to Day about the dedication it takes to become the top-ranked player in the world, and he was impressed that Day has been able to maintain that level of play even with a wife and two kids (and a third on the way).
"He did it under different conditions, different times in his life, and now that he's got a taste of it, he wants it back again. That's cool to see," Woods said. "He's willing to get his hands dirty again and do all of the legwork off the golf course, away from tournaments, the hours upon hours of countless practice that we all have to log. He's willing to do that again."
3. Some questioned whether Aaron Wise was ready for the big leagues when he bolted for the pros after two seasons and an NCAA individual title at Oregon.
Still just 21, Wise has won on the Canadian Tour, Web.com Tour and nearly on the PGA Tour after his career-best tie for second at the Wells Fargo. In the final round he showed all of the tools that made him an NCAA champ on his home course at Eugene Country Club, pumping drives, knocking down flags and looking unflappable in crunch time.
Wise will battle inconsistency, but as he showed at Quail Hollow he has plenty of pop to compete on Tour.
---
---
4. In his return to competition, Woods had one of his worst putting performances in years.
Of the 75 players who played all four rounds, he finished 72nd in strokes gained: putting. He needed at least 31 putts each round, and he took 126 in total, his most since 2002. He lost nearly six shots to the field on the greens. He had six three-putts.
It was enough to spoil a ball-striking week (eighth in strokes gained: tee to green) that was more than good enough for him to contend.
The good news? There's little reason to think that his poor week at Quail Hollow was anything more than that – a poor week. Prior to this, his short game and putting had been a strength (top 10 on Tour in both categories) while his ball-striking let him down.
"I need to do some practicing with my putter, work on it just a little bit," he said after tying for 55th. "It was just a bad week, and good news is wipe your hands clean and go on to the next one."
5. Most curious was Woods' excuses afterward, that he couldn't compute how the greens were putting slower than they felt.
He's one of the greatest putters in the history of the game, and he couldn't grasp that he needed to hit putts firmer or softer?
That didn't make any sense, especially when Quail Hollow's greens were running at about a 12 on the Stimpmeter – they're not exactly the shaggy greens at your local muni.
---
---
6. To be honest, I had no idea what was going on for most of the European Tour's innovative GolfSixes event – there were mixed teams, shot clocks, dancing mascots, fog machines and random people from the crowd teeing off.
But it looked like fun, and even if it doesn't change the golf landscape forever the Euro Tour deserves props for trying something different.
Thanks to @EuropeanTour for allowing me to be part of GolfSixes. Haven't had that much fun on a golf course for a long time. Brilliant to get the women involved. Pleasure also to partner @mattsjwallace… Easy game from where he drives it . Great to see so many kids too.


— Eddie Pepperell (@PepperellEddie) May 6, 2018
---
7. Gavin Moynihan had missed the cut in all eight of his starts this year. Then he teamed with Paul Dunne – who is on a bit of a heater, with four top-10s in his last five worldwide starts – and helped Ireland win the event.
On the other side of the spectrum is Brice Garnett. He won his first PGA Tour event, in the Dominican Republic, six weeks ago. Sunday at Quail Hollow, he finished triple-quad and shot 88 – the highest score on Tour this season.
Golf is a strange, beautiful game.
8. In a rarity for regular PGA Tour events, Tiger Woods and Phil Mickelson will be grouped together for the first two rounds of The Players. It's the first time that's happened since the 2014 PGA, and the first time in a non-major since the 2013 Deutsche Bank Championship outside Boston. Rickie Fowler will round out the star-studded threesome.
Tee times have yet to be released as of this posting, but Jordan Spieth, Rory McIlroy and Justin Thomas are another early three-ball at TPC Sawgrass.  
---
---
9. The arrival of Steve Stricker likely signaled an end to his days of dominance, but Bernhard Langer at 60 years old clearly isn't going anywhere.
He was (gasp!) winless heading into May, but Langer held on for a one-shot victory at the Insperity Invitational. It was the 37th victory of his senior career.
With the win, he's back atop the money list, having played five more events than Stricker.
10. If you wanted to know why McIlroy is one of the best quotes, not just in golf but in all of sports, revisit his Wednesday news conference at Quail Hollow.
When asked to describe his post-Masters funk, McIlroy could have said that he was bummed but got over it after a few days and returned to work. That's what almost every other Tour pro would have said in public.
Instead, McIlroy said that it took him about a week to snap out of it, and it was only after wife Erica forced him out of the house. Sulking, he read books and binge-watched shows and downed a few bottles of wine.
Then the four-time major winner said this, about the Masters: "The Masters has now become the biggest golf tournament in the world, and I'm comfortable saying that. I don't care about the U.S. Open or The Open Championship. It is the biggest tournament in the world, the most amount of eyeballs, the most amount of hype – the most amount of everything is at Augusta."
That comment didn't sit well with those across the pond, but credit McIlroy for his honesty. Of course he still "cares" about those other three majors – adding to his major haul is the only way to bolster his legacy – but the Masters is the tournament that he (and every other leaving, breathing human) wants to win most. Nothing wrong with that.
---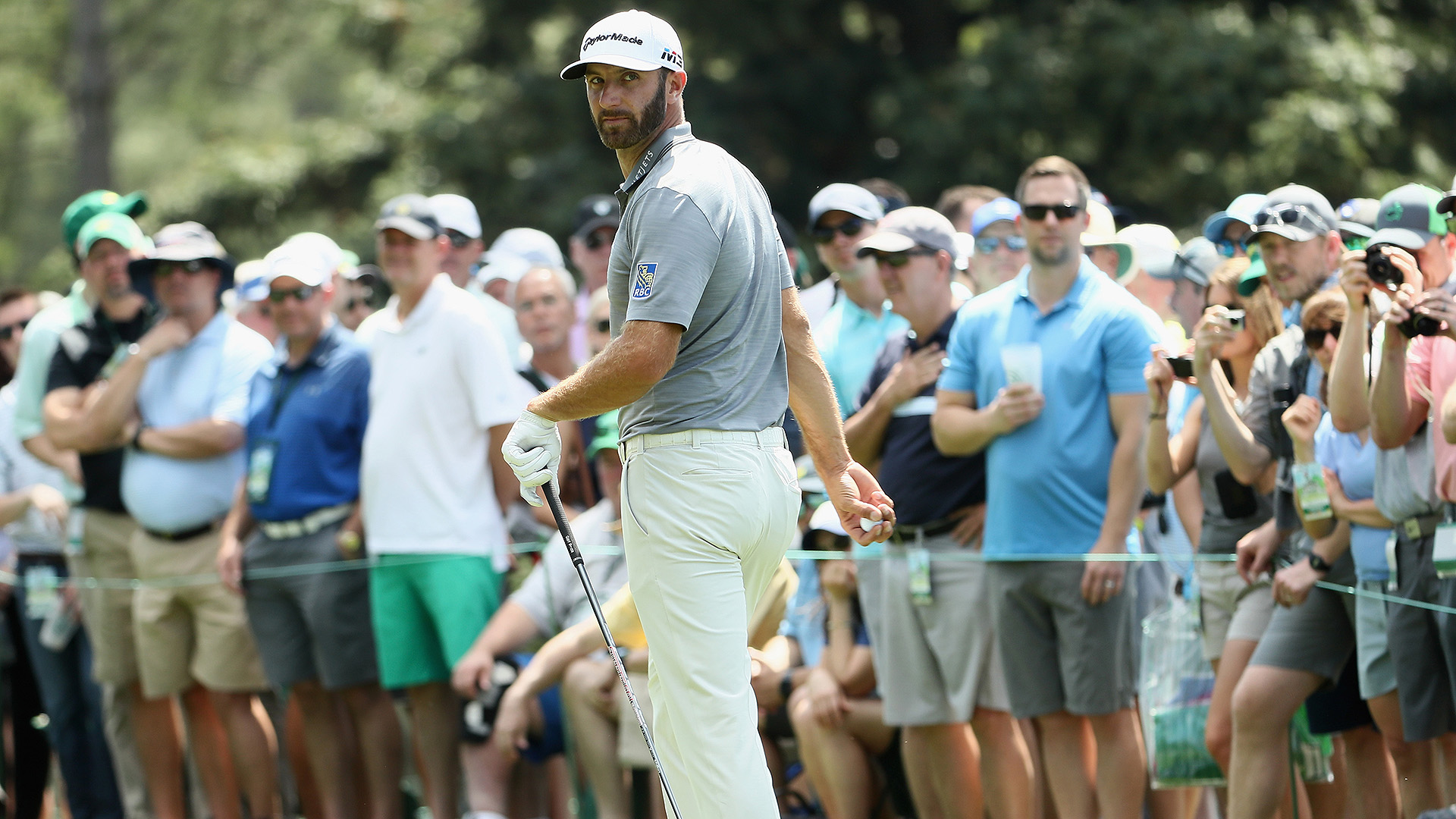 ---
11. Dustin Johnson's reign at the top of the world rankings might be coming to an end after 15 months.
Five players will be in the mix for No. 1 next week, but Johnson needs at least a top-11 finish to have a chance to remain in the top spot.
That's interesting because TPC Sawgrass is a course where DJ has struggled in the past. In nine career starts there, only once has he finished inside the top 25 (T-12 last year).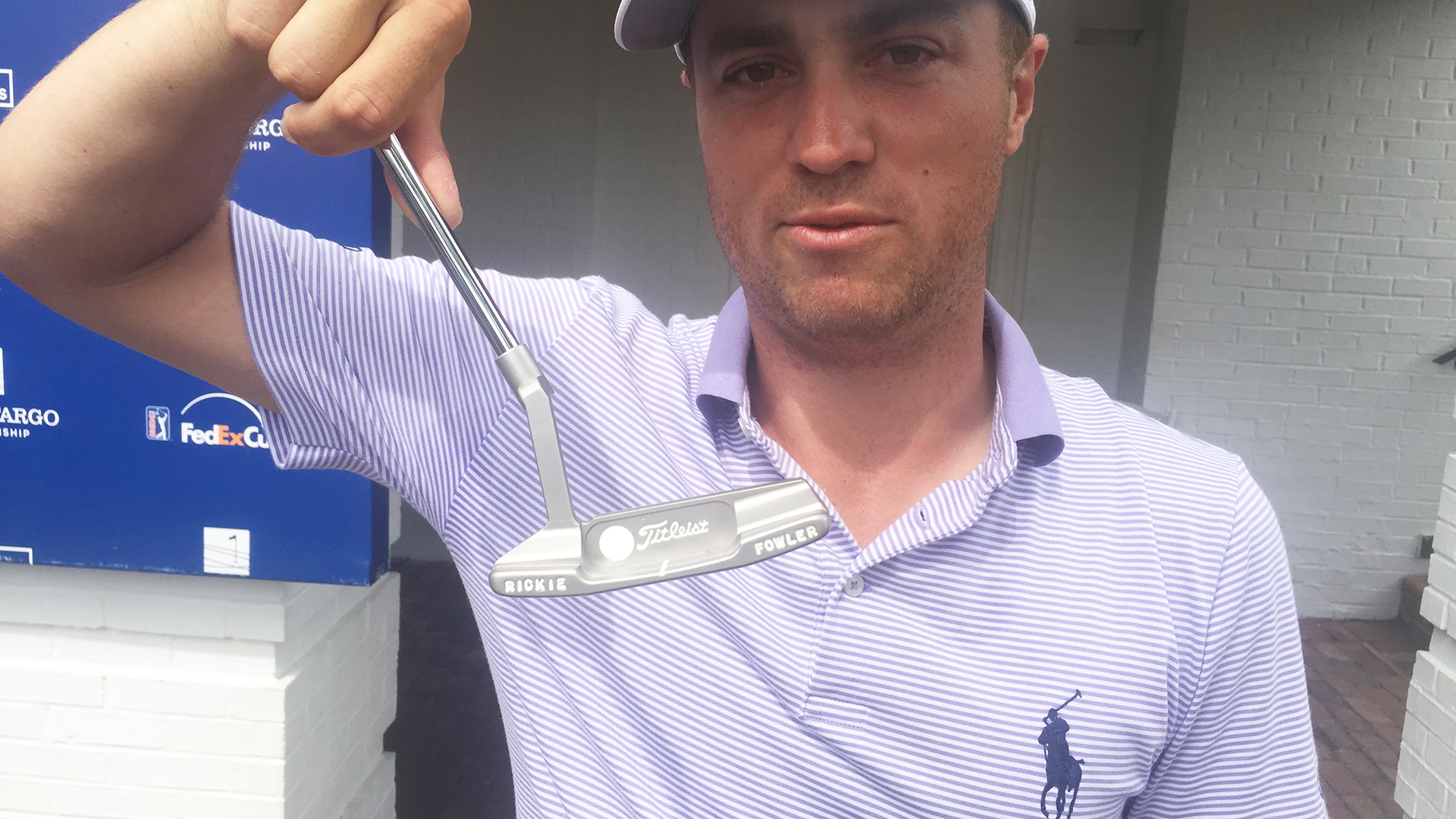 ---
Thomas sure didn't feel like he was on the cusp of becoming the No. 1-ranked player in the world.
Needing only a tie for 12th to push Johnson out of the top spot in the world rankings, Thomas felt so uncomfortable on the greens that he ditched his usual putter and played the rest of the week with Rickie Fowler's backup model. He wound up in a tie for 21st.
Afterward, he offered an explanation to which every single golfer could relate:
"(My putter) has been great to me for a while, and it's not to say I won't go back next week or down the road, but a putter needs to be on your good side, and feeling good in your hands," he said. "It wasn't feeling good in my hands."
Still, it's not an insignificant switch. Until recently, Thomas has been on an absolute tear with that putter, but perhaps it's time to try something new.

This week's award winners …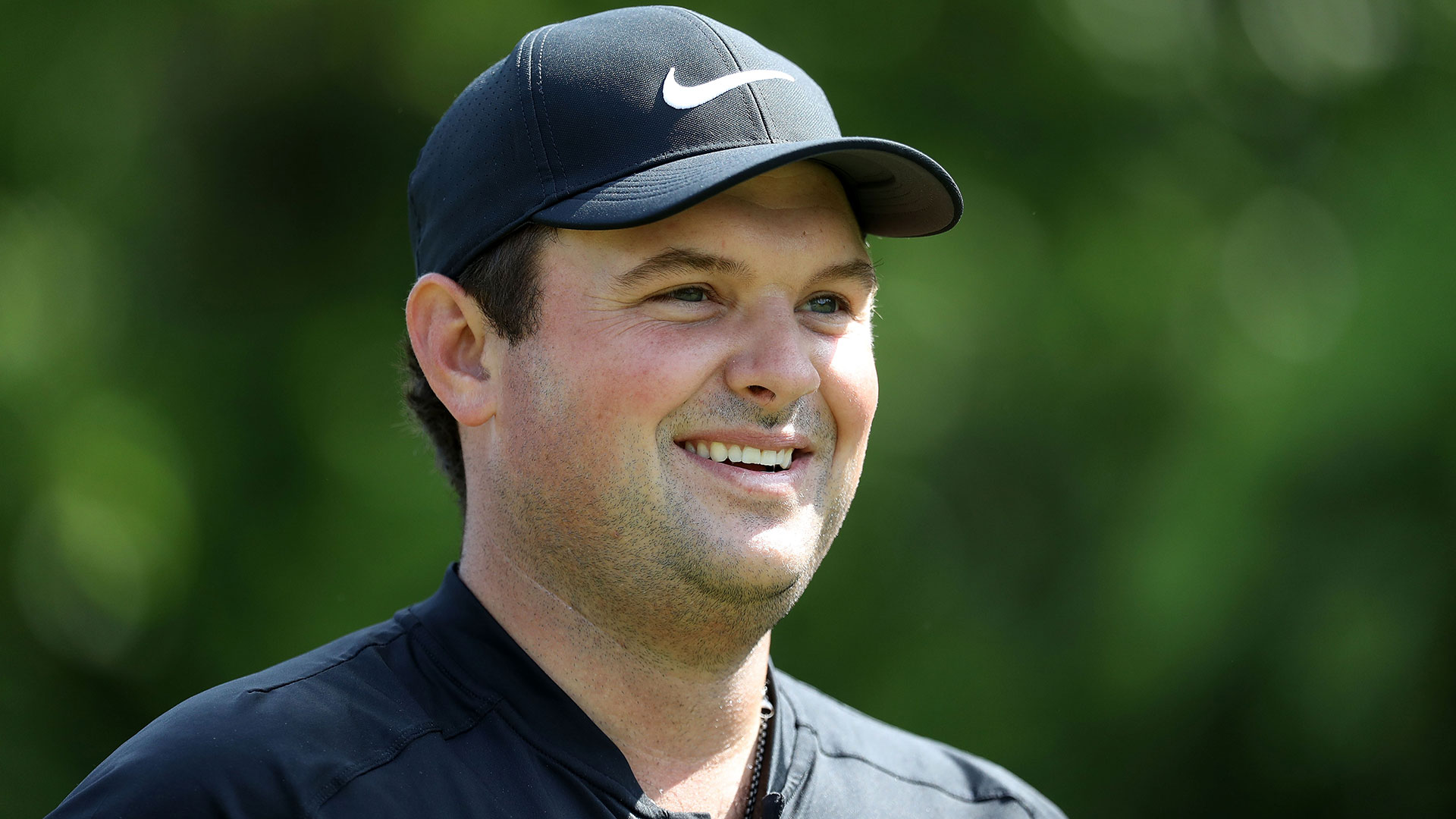 ---
Stay Hot, Part 1: Patrick Reed. The Masters win has done little to cool his form. His eighth-place showing at the Wells Fargo was his sixth consecutive top-10. Dude is rolling.
Stay Hot, Part 2: Bryson DeChambeau. Don't look now, but the Mad Scientist just posted his third top-4 in his last four starts.
Once-Every-Four-Years Trend: Birdie-free Tiger. His final-round 74 without a birdie was his first in more than four years, when he posted an oh-fer at Doral in 2014.
Hard to Please: Peter Kostis. The CBS announcer told Day in the post-round interview that he didn't think "he even had his C-game today." Sheesh – the guy played the Green Mile in 2 under when tied for the lead and shot 69 to win.
---
---
Race to the Finish: Sung Hyun Park. The 2017 LPGA Co-Player of the Year got on the board with her first win of '18 by chipping in on the last hole and shooting 11-under 131 in the rain-shortened event in Texas.
Clock Is Ticking: John Peterson. One of the PGA Tour's most interesting characters is winding down his career, after the first-round leader turned in another middling performance. With only two more starts to earn nearly $300K, he could be in his new gig in commercial real estate by summer.
All Downhill From Here: Proposal guy. He brought in JT for his caught-on-camera proposal, thereby setting himself up for a lifetime of disappointing his new bride.
"Group hug" … @JustinThomas34 @PGATOUR @WellsFargoGolf pic.twitter.com/QYSINkJ7jl


— PGA TOUR Media (@PGATOURmedia) May 2, 2018
---
Couldn't Wait: Dawson Armstrong. The senior at Lipscomb, who advanced to the upcoming NCAA regionals as an individual, will forgo the postseason and turn pro immediately. He'll make his pro debut in a few weeks, at the Web.com Tour event in Nashville. This is a name to remember.
Still Grinding: Smylie Kaufman. He's still mired in a horrible slump (as your trusty correspondent filed here), and he sent an update to his followers here. His troubles aren't from a lack of effort – on multiple occasions this year Kaufman has been the last one working on the range on Wednesday afternoons.
Golf has been very difficult for me over the past year as most of you know. I have been working extremely hard but all of the pieces haven't come together yet. I know there will be good times ahead. Thank you all for your support


— Smylie Kaufman (@SmylieKaufman10) May 4, 2018
---
Need More Of This: Quail Hollow's 17th. The watery par 3 changed 90 yards overnight – from 140 yards in the third round to a 230-yard brute on Sunday. It's OK to make these guys think.
When You Make Par From a Hazard: Phil Mickelson. Only Phil can do a mic – sorry, putter – drop:
Phil after making par on 18 from the hazard. pic.twitter.com/VorxGfKYpU


— Skratch (@Skratch) May 6, 2018
---
Blown Fantasy Pick of the Week: Ryan Moore. Most of the big names at least earned a paycheck last week, but Moore was a trendy one-and-done pick because of his penchant for playing tough tracks well. He had three previous top-20s at Quail Hollow, and a tie for 13th at last year's PGA, and then he shot rounds of 73-73 to miss the cut. Sigh.   


[ad_2]

Source link