[ad_1]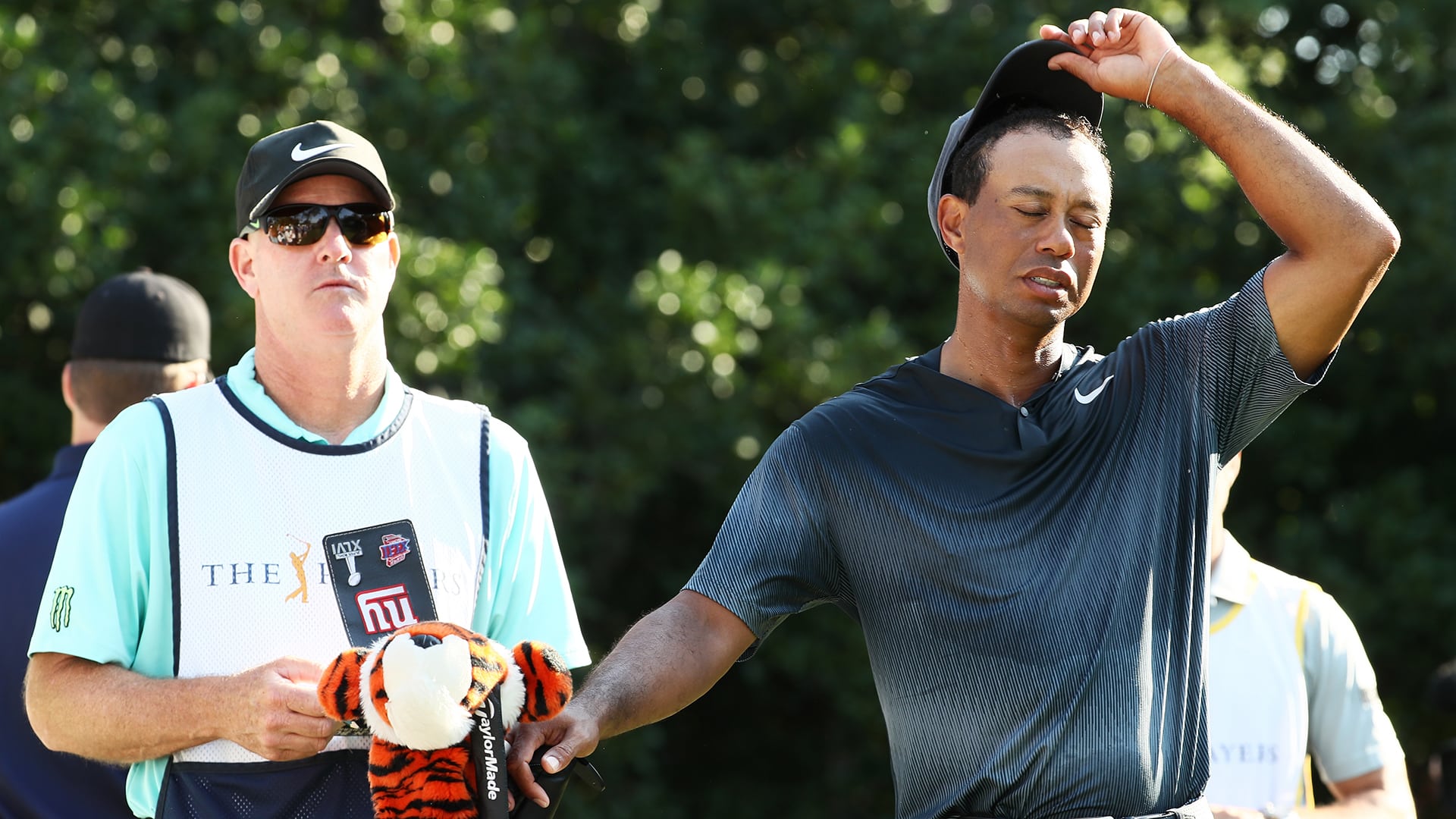 PONTE VEDRA BEACH, Fla. – Having captured the U.S. Open and lifted a handful of trophies, Webb Simpson knows plenty about what it takes to conquer a demanding test. But coming down the stretch Friday at TPC Sawgrass, he started having some unexpected flashbacks.
"I grew up on an easy golf course," Simpson explained. "So it reminded me of being back home, shooting low numbers."
It's a phrase that likely won't make it into promotional materials for The Players Championship anytime soon. But Simpson made it look effortless during the second round, torching the Stadium Course for nine birdies and an eagle while tying both the course record and the 36-hole scoring record despite a watery double bogey on the 17th.
Granted, Simpson was hardly the only player to feast on benign scoring conditions through the first two rounds, as calm winds and soft greens have turned the PGA Tour's marquee event into some derivative of the John Deere Classic. Simpson leads by five at 15 under, but three other players are in double digits under par while a 4-under total doesn't even crack the top 30.
It's the second time in as many years that the Stadium Course has been brought to its knees through two rounds, with the field combining for a subpar scoring average (71.647) that is more than a shot lower than last year's average.
"I think I watched a little bit on TV yesterday when I was having breakfast before I played in the afternoon, and I was surprised at how many shots spun back and how receptive the greens were," said Patrick Cantlay, who is tied for second at 10 under. "It looked like they were making birdies left and right."
The preponderance of birdies seemed to come from the blade of Simpson's putter, as he rattled off six in a row on the back nine to distance himself from the field. Nearly five years removed from his most recent victory, he now enjoys an enviable position given that each of the previous three players who led by at least three shots at the halfway point here went on to victory.
---
Full-field scores from the The Players Championship
The Players Championship: Articles, photos and videos
---
But despite the receptive conditions, not every player found as much fortune as did Simpson. The two marquee groupings that received plenty of pre-tournament hype largely fizzled out: Rory McIlroy, Rickie Fowler and Phil Mickelson all missed the cut, while Tiger Woods, Jordan Spieth and Justin Thomas made it to the weekend by the thinnest of margins.
For the latter trio, the good news is that they have a Saturday tee time. The bad news is that they're facing a two-touchdown deficit and sit four shots outside the top 25, with little if any chance of factoring into the final outcome.
"We would all like to be grinding around the lead, but sometimes that's not the case and you've got to get around the cut line," said Spieth, who needed every bit of a second-round 68 to sneak into the weekend at 1 under.
After two days of red-stained leaderboards, the good times may soon grind to a halt for the 80 players still under par. When Day reached 15 under through 36 holes two years ago, the Stadium Course bit back in a big way during a blustery third round where firm conditions sent the scoring average skyrocketing to 75.592. Only three players broke 70 that afternoon, and Day's 15-under score proved to be the winning total.
Conditions are unlikely to reach those extremes this weekend, with steamy temps and light breezes in the forecast. But rest assured that tournament officials will likely look to equip the Stadium Course with a few more rows of teeth over the next two rounds, lest scores approach Greg Norman's 24-under total from a quarter century ago in the final iteration of the tournament's stint in May.
It's all a scenario that Simpson welcomes, having ridden an unexpectedly hot putter to a position even he didn't originally consider within his grasp.
"At a certain point, maybe on 13 today, you just start – like a kid, just kind of laughing. Everything is going in. You feel  like no matter what, you're going to make it," Simpson said. "But at the same time, you're at TPC Sawgrass, so you know that trouble is everywhere as you guys saw with me on 17."
The trouble is certainly lurking, as any number of stars sent home early can attest, and more chaos is sure to ensue on an unpredictable layout where double bogey is never more than one swing away. But they'll all be chasing Simpson, who has spent the past two days evoking a four-letter word that might make tournament officials cringe: easy.
[ad_2]

Source link