[ad_1]

Lydia Ko busts a slump, Billy Horschel and Scott Piercy team up to win, the PGA Tour turns up the volume, Brooks Koepka looks strong and more in this week's edition of Monday Scramble:

It's hard to imagine an older 21-year-old than Lydia Ko.
During her remarkable career, she has held the No. 1 spot in the world for two years, initiated more than a dozen breakups and endured her first slump as a pro.
It'd be enough to swallow whole a lesser talent, but then again Ko isn't an ordinary prodigy. She's the youngest player on either the PGA or LPGA tours to reach 15 wins.
Maybe her win at Lake Merced is a case of a course perfectly suiting a player. Or perhaps it signals the beginning of her slow, steady return to No. 1.
Whatever the case, she's back in the fold – and that's more than enough for now.

---
1. For the second year in a row, the Zurich Classic likely will be remembered more for the buildup than the actual event – and that's OK.
Tournament officials and the PGA Tour have done a commendable job rebranding this once-downtrodden event as freewheeling and fun, even if the product over the past two years hasn't exactly delivered the same entertainment.  
As evidenced by the field that assembled in New Orleans (10 of the top 15), there is a desire among players to try something new.
Even if the event still feels a bit tame, forced and awkward, it still beats the monotony of 72 holes of stroke play.
2. Scott Piercy proved to be an invaluable partner, giving Billy Horschel a pep talk three weeks before they arrived for the Zurich Classic.
Horschel returned the favor by playing his best golf in a year.
With a bogey-free 67 in alternate shot on Sunday, Horschel and Piercy erased a three-shot deficit to win by one over Jason Dufner and Pat Perez. Read more on their victory here.
3. Adding walk-up music generated a ton of pre-tournament interest, which is all the tournament and the Tour was looking to do.
The execution, however, was faulty. You can read more here, from my Saturday spent on the first tee, but the music would be more effective as the players enter the teeing area – not in the 10 seconds right before they're set to hit.
Here's thinking the Tour will make that tweak for next year, but credit to Ben Crane and Alex Cejka for being one of the few players to fully embrace the concept:
It's going to be a fun day. #LiveUnderPar pic.twitter.com/AkDLkzEwYL


— PGA TOUR (@PGATOUR) April 28, 2018
---
4. Rarely has this scribe seen Jordan Spieth as upset as he was Friday after rinsing shots on each of the last two holes en route to a shocking missed cut at the Zurich.
Cruising along with partner Ryan Palmer at 8 under, five shots back, Spieth found the water with his tee shot on 17, then sailed his approach shot into 18 into the drink, too. The double-double finish – good at In-N-Out, not so good in an event – doomed them to a missed cut, by one.
"It's not a good feeling," he said afterward. "It's much worse than if it's just you."
Spieth will take the week off before returning at The Players.
5. One of the most-hyped events of the year lost almost all of its energy on Friday afternoon, after Spieth's watery finish.
He was one of five top-10 players who missed the cut. Justin Thomas, Jon Rahm, Sergio Garcia and Brooks Koepka also didn't stick around for the weekend.
One possible explanation: The top players treat the week as a working vacation, since there are no world-ranking points on offer. But there's still much to play for with guys like Scott Brown, Daniel Summerhays, Michael Kim, Andrew Putnam, Troy Merritt and Brendon de Jonge, all of whom have struggled this season but were in the top 5 after 54 holes.
---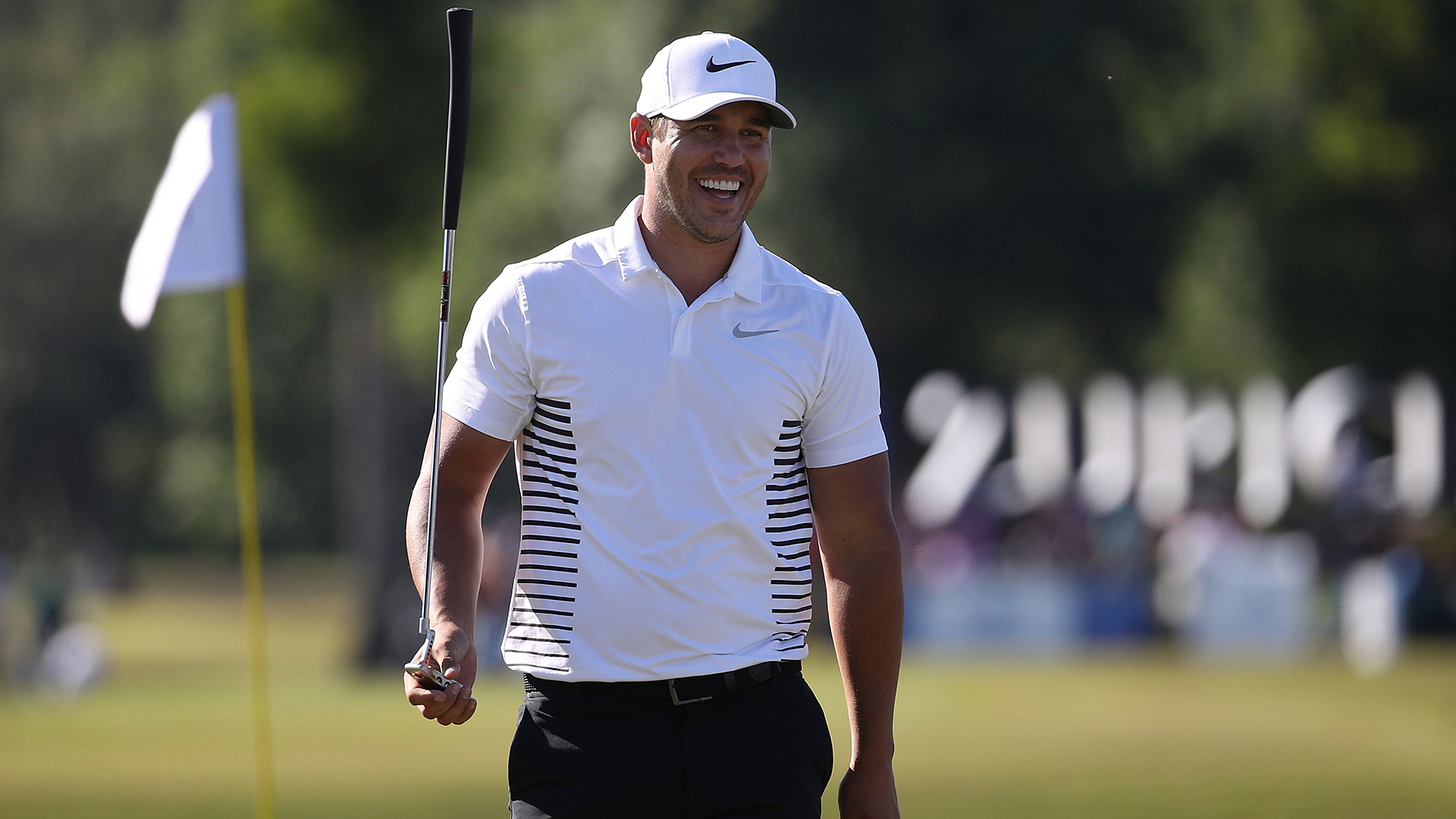 ---
6. Koepka didn't make the cut in his first start in 15 weeks, but that wasn't entirely his fault – he was partnering with Marc Turnesa, a 40-year-old former Tour winner who is now a full-time realtor.
Koepka, however, looked like he'd barely missed a step after sitting out since early January because of a torn ligament in his wrist. He reported that he was completely pain-free and that his game was "where it should be in April."
The reigning U.S. Open champ will play the next two weeks, and don't be surprised if he finds himself back in the mix soon.
7. The Zurich was another reminder that the PGA and LPGA tours desperately need to link up for a mixed team event.
The thought of doing that at the Sentry Tournament of Champions is over – starting next year, the LPGA will have its own winners-only event – but LPGA commissioner Mike Whan told colleague Randall Mell last week that there remains "significant interest" on his part in joining forces for a tournament. PGA Tour commissioner Jay Monahan said Sunday that it's "just a matter of time."
Dustin Johnson and Inbee Park? Jon Rahm and Brooke Henderson? Jordan Spieth and Lexi Thompson? This needs to happen, ASAP.
Here were my thoughts on the matter.
8. Lydia Ko struck arguably the shot of the year Sunday – a 234-yard 3-wood that nearly dropped for an albatross. She brushed in the 2 1/2-footer for eagle to defeat Minjee Lee and snap a 22-month winless drought.
---
9. And so, just like that, the questions about what's wrong with Ko's game quietly went away.
She's not a power player, not by any stretch, which means that her iron play and short game need to spot-on for her to contend. And for so many years, they were.
Working now with swing coach Ted Oh, Ko is clearly back on the right track. How long will she stay there? That's the question.
"It's a huge relief because people are like, Because of this you're not winning, or because of that you're not winning," she said. "I knew that my game was there, but I just needed to put the pieces together. I felt like I was able to do that this week."
---
---
10. Not sure how much longer Tiger Woods committing to regular-season Tour events will register as news, but, anyway, he will play the next two weeks, beginning with the Wells Fargo Championship at Quail Hollow.
Woods hasn't played since a tie for 32nd at the Masters, a disappointing performance only when compared to his impressive play during the Florida swing.
It's Woods' first start at Quail Hollow since 2012, and it figures to be a stiff challenge.
Just about the only thing he hasn't done well this season is put the ball in the fairway, ranking 202nd on Tour in driving accuracy and 151st in strokes gained: off the tee.
Last year at the PGA, Quail Hollow ranked as the most difficult course on Tour in terms of greens in regulation, proximity and proximity from the rough.
Something has to give.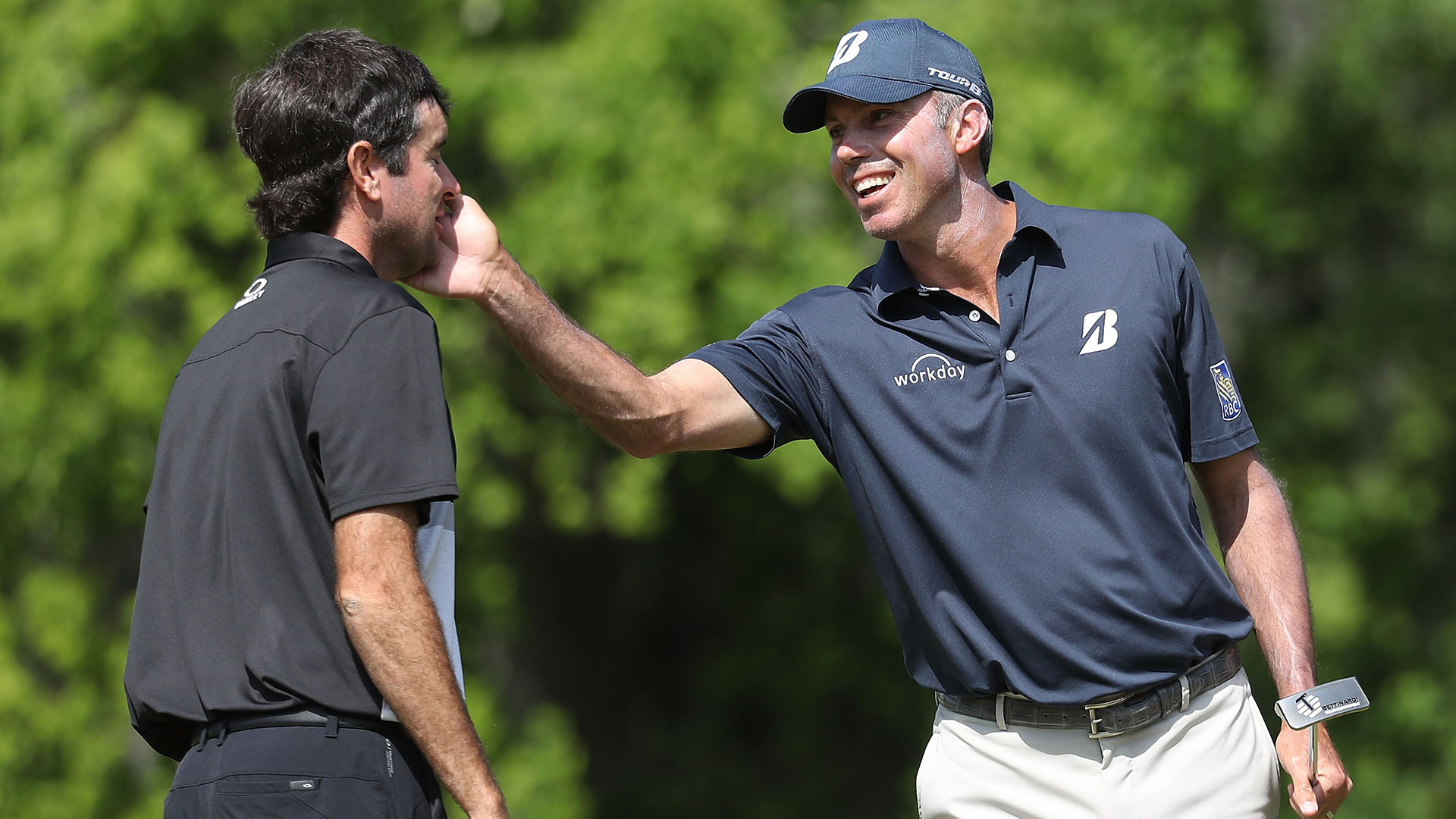 ---
Bubba Watson and Matt Kuchar, who have partnered before in team play, decided to spice up their relationship last week.
That's right, in an attempt to pump up the other after a birdie – Come on, let's get another one! – Watson and Kuchar took to playfully slapping each other in the face.
Watson said he wanted to be slapped so many times in the face that he had a bruise. Too bad that didn't really happen, since the duo tied for 28th.
Kuchar explained it thusly: "I figured this was a good opportunity for me to slap Bubba in the face. Everybody wants to do that."
Right?

This week's award winners … 
Like Shrimp?: Jose de Jesus Rodriguez. The 2017 PGA Tour Latinoamerica money winner (nicknamed "The Shrimp") took a big step toward securing his Tour card for next season by overtaking Maverick McNealy and surviving a brutal week at the Web.com Tour's United Leasing & Finance Championship. At 37, Rodriguez's story is one of perseverance.
Walkoff Win: Auburn. The Tigers won their first SEC title since 2002 after Wells Padgett rolled in this 20-footer for birdie on the final hole to knock off chief rival Alabama in the championship match.
WAR EAGLE!@AuburnMGolf defeats Alabama on the 18th hole to win the SEC Championship! pic.twitter.com/RrZhODQ5o0


— SEC Network (@SECNetwork) April 29, 2018
---
Excuse Me, Playing Through: Talor Gooch. In one of the week's most hilarious scenes, Gooch had to wait more than 10 minutes to play his third shot on the 18th hole Friday, after a trio of gators hovered near his ball in the fairway bunker. He was eventually granted free relief (from a dangerous situation), but the ball plugged in the bunker. He made par and made the cut.  
Back In the Winner's Circle: Y.E. Yang. Best known for toppling Tiger in the prime of his career, Yang earned his first title since 2010, winning by four shots at The Crowns tournament in Japan.
---
---
Baby Bump: Stacy Lewis. The former world No. 1 confirmed that she's expecting her first child in November. She plans to play through the middle of July.
You Know Your Team Is Good When …: Brendon Jelley. The Oklahoma State senior, who can't even crack the lineup for the No. 1-ranked Cowboys, shot 19 under par to earn a spot on the Mackenzie Tour this summer. That team is deeeeep.
Amateur Hour: Lydia Ko. She celebrated her 21st birthday last week, and when she went to order her first (legal) drink, she was denied – because she'd forgotten her ID. Doh!
Blown Fantasy Pick of the Week: Justin Thomas and Bud Cauley. The FedExCup points leader tied for fifth here last year, and Cauley had three straight top-25s. But they missed the cut by a shot, after they failed to make birdie on the par-5 finishing hole. Sigh.


[ad_2]

Source link